EH&S Compliance Services for Healthcare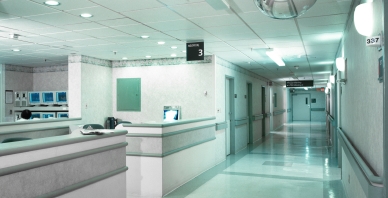 It is not just about collection, disposal and management of hazardous waste. Sustainable and measurable programs have to be built to standards of best practices in Environmental, Health and Safety (EH&S) compliance. Programs need to be designed for each client by a dedicated team of people who have the technical knowledge and the training to make sure that your individual practices are supporting your overall regulatory compliance.
The sheer volume of paperwork and the technical knowledge required to keep up with all the regulations put a tremendous burden on the hospital management and staff. Not unlike deferring capital improvements to buildings, hospitals sometimes defer costs of building compliant hazardous waste programs when money is tight or when other priorities take precedence.
Recently, a hospital in New Hampshire was assessed a $250,000 penalty for non-compliance with EPA pharmaceutical disposal regulations after an inspection. Don't let this happen to you!
Does your hazardous waste provider mitigate your EH&S compliance risks and reduce your costs?

If you answered no then it is time for you to call Triumvirate Environmental, Inc. (TEI) – a company widely recognized as the leading-edge hazardous waste provider for its innovative, sustainable and cost-optimized solutions for the management, collection, transportation and disposal of hazardous waste. Every EH&S compliance program we create is customized for a specific healthcare organization. We don't offer cookie cutter, one-size-fits-all kind of environmental services and programs.
Key Elements of Our Integrated Hazardous Waste Management Programs
Industry-best people

Unmatched service responsiveness
Committed to strict regulatory compliance
Cost minimization strategies
Green & sustainable programs
Leading-edge technology & innovation
Broad service capability
Committed to protecting your reputation
Protecting Your Good Reputation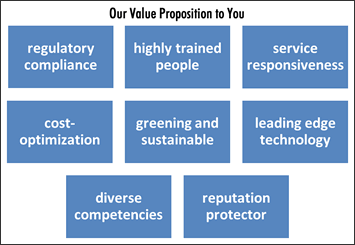 Much like virtue, a good reputation is difficult to repair when impugned. Our goal is to take all steps possible to work with your professional staff to avoid regulatory non-compliance. Both the hard (financial) and soft (brand-stain) outcomes from non-compliance can be expensive and embarrassing. We are committed to preventing regulatory issues before they arise, rather than damage-control after-the-fact. We have expanded our bandwidth of core services to better serve the diverse needs of our clients. Our core EH&S regulatory compliance services include:
Consulting
Multi-Media Audits
Report & Plan Writing
Training & Education
Onsite Support Services
Program Review & Development
Pharma Waste Management
Waste Diversion,Resourcing & Recycling
Disposal Evaluation
ADVISETM Online Compliance
Waste Management & Disposal
Hazardous Waste
Non-Hazardous Waste
Pharmaceutical Waste
Chemotherapy Waste
Universal Waste
Mixed Waste
Radioactive Waste
Wastewater
Operation & Maintenance
Sampling