How well do your pallets hold up under the elements? Tired of pallets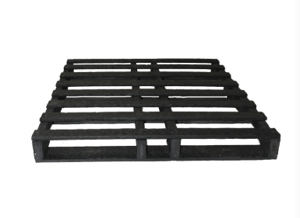 breaking and leaving a mess in the warehouse? Replacing pallets is costly and time consuming. Triumvirate Environmental's subsidiary, BestPLUS Plastic Lumber, manufactures recycled plastic pallets that are a sustainable, durable, and cost-effective alternative to the standard wooden pallet. Made from recycled plastic materials, every 10 BestPLUS pallets made saves one tree from deforestation and diverts 1/4 ton of plastics from landfill.
Promoting a circular economy, the pallets are ideal for use in all operations in the Life Science, Pharmaceutical, and Manufacturing industries. No splintering or breaking, which means no contamination, wood dust particles, or health and safety hazards. They are resistant to chemicals, acids, corrosives, and are impervious to liquids.
Here are some common questions we get regarding the plastic lumber product:
Q: Will BestPLUS lumber rot or promote mildew growth?
A: No. Recycled plastic lumber does not contain organic material, such as wood filler, to promote rot, mold, or mildew growth. The material will not absorb moisture or allow anything to adhere to it.
Q: How do you clean BestPLUS plastic lumber?
A: The material is impervious, so dirt and debris don't adhere to it very well. If necessary, we recommend initially wiping with a soaping sponge or towel to remove debris or dirt before using more aggressive methods, such as pressure washing. Stains from oil-based products or permanent markers may require a mild solvent and rag to remove.
Q: Is plastic as strong as wood?
A: Plastic and wood are two very different substances, reacting in different ways. Plastic may bend slightly under weight that would break wood. The pallets have been thoroughly tested and can hold up to X lbs. BestPLUS plastic pallets also have a 10-30x longer lifespan than wood. Fewer broken pallets minimizes warehouse safety hazards.
Q: How much do the plastic lumber pallets weigh?
A: BestPLUS recycled plastic pallets weigh approximately 50 lbs., making them comparable in weight to most other pallets in the market.
Q: Are the pallets customizable?
A: Yes, for large quantity orders BestPLUS recycled pallets can be custom built to fit your needs. The standard pallet is 48" x 40" and has 8 deck boards, 4 stringers, and 4 bottom boards. We also offer stenciling on the side of the pallets.
Q: How do these pallets promote a circular economy?
A: Our recycled plastic pallets include single-use plastics, filters, bioprocessing bags, and other plastic materials that are generated by Triumvirate's clients. We treat the waste and use it to build the plastic lumber boards that make up the pallet. By recycling our clients' plastic materials and reselling it to them in the form of pallets, we have effectively closed the loop and contributed to the circular economy.
By participating in our plastic recycling program – transforming your waste into your plastic pallets – your company can improve its environmental health, perpetuate sustainability, and strengthen its internal environmental initiatives.
Didn't see your question here? Reach out to me to learn more. You may also click here for more on the features and benefits of BestPLUS recycled plastic pallets.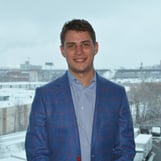 Greg Klyachman
National Account Representative
Triumvirate Environmental
(978) 882–1859
gklyachman@triumvirate.com