Overview
Join Triumvirate Environmental for a half-day seminar on controlled substance disposal, onsite management rules, and pharmaceutical waste regulations. There have been many recent changes to the DEA and EPA regulations regarding pharmaceutical waste management. Is your organization compliant with the current rules? This event will provide a comprehensive look at the disposal and onsite waste management regulations for controlled substances. The interactive format encourages participation and collaboration to enhance your learning experience.
See the full agenda below (breakfast included). Sign up now for this free event!
When: Tuesday, October 29, 2019 | 9:00am - 12:00pm
Where: The Westin Grand Central | 212 E 42nd Street, New York, NY 10017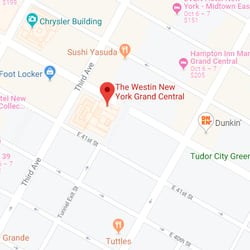 Agenda
Arrival and Breakfast
9:00am - 9:30am

What Do the DEA Pharmaceutical Regulations Mean for Your Organization?
Speaker: Juana Hill, Regulatory Compliance Specialist, Drug Enforcement Administration
9:30am - 10:30am

Do you know all your disposal options for controlled substances? Is your organization compliant with the onsite management regulations for your pharmaceutical waste? This session will tell you what you need to know regarding most recent pharmaceutical regulations from the DEA. You will learn how pharmaceutical disposal and drop-off rules could impact your organization and what you should do to stay compliant. All regulations will be presented in an easy-to-understand, digestible form so you can take the information back to the rest of your organization.
Ensuring Compliance with the EPA's New Hazardous Pharmaceutical Waste Rule
Speaker: Mike Maffuccio, EH&S Practice Director, Triumvirate Environmental
10:30am - 11:30am

The EPA signed the final Management Standards for Hazardous Waste Pharmaceuticals Rule in December 2018. This rule is designed to reduce the amount of hazardous waste pharmaceuticals entering our waterways, improving the quality of our surface and drinking water. Is your facility prepared to comply with these changes?
Closing Remarks and Networking
11:30am - 12:00pm