Overview
Hazardous materials transportation compliance issues can impact many people and departments across an organization. DOT violations are expensive and time consuming to resolve. Ensuring compliance requires a complete understating of the DOT regulations, including regulations that are often-overlooked.
During this webinar we will review:
DOT Hazmat registration
Transporting chemicals in personal vehicles
DOT training requirements
DOT materials of trade
And more!
Speaker Profile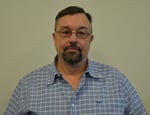 Rick Foote
has over 30 years of experience in the field of Environmental, Health & Safety and is currently Regional Director of EHS - New England for Triumvirate. Rick has been with Triumvirate for over 15 years where he has established dozens of successful EH&S programs for companies that had few or no systems in place. He brings client programs into full regulatory compliance by establishing what programs exist, what level of compliance is achieved, and identifying the changes that need to be implemented. Each EH&S program that Rick develops is customized to the individual client's needs.