Overview
Many businesses view the issue of compliance as merely a nuisance, and the fines that result as simply the cost of doing business. High violation fines make this an expensive way to conduct business. Does your workplace have plans in place for when the auditors come knocking on your door?

Attend this webinar for:
Tips and best practices to help you prepare for your next EHS Audit
What to expect when the auditor arrives
How to walk auditors through your facility
Best practices for impressing your auditor
How to contest a citation
Speaker Profile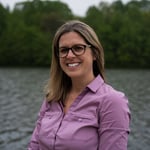 Ashley Woodward
is an Environmental, Health and Safety (EHS) Consultant for Triumvirate Environmental in the Mid-Atlantic region. She has over a decade of professional experience in the regulatory field of radioactive, hazardous and environmental compliance. As an EHS consultant for Triumvirate Environmental, she is committed to ensuring that all employees and employers have the tools and systems needed to create a safe and productive work environment through personalized solutions. She is a graduate of University of Maryland University College where she earned both a BS and MS in Environmental Management. She is an active member of the National Association of Environmental Professionals.