Overview
This webinar will address rules and regulations around wastewater and how to stay in compliance with them. Watch this webinar to learn:
Most common wastewater violations
What the recent changes to the MA staffing and reporting requirements state and what might need to be done to stay in compliance with them
Speaker Profile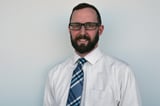 With over 11 years' EH&S experience, Darrell Interess currently works as the Wastewater Division Manager at Triumvirate Environmental. He oversees a team of certified/licensed wastewater operators and engineers servicing, maintaining, sampling, repairing, troubleshooting, and upgrading wastewater treatment systems as well as providing technical consulting specific to wastewater regulations and treatment operations. Darrrel is a Certified Wastewater Operator with OSHA 40-hour HAZWOPER, API WorkSafe and Loss Prevention System (behavior-based safety) training.