Overview
Despite having a full team in place, do you feel you're still not in control of your hazardous waste programs? Do you completely understand how your organization manages waste and the impacts associated with it? Do you fall short on meeting department goals? Are you tracking the right metrics that will increase your organization's sustainability?

There are several key elements to managing a high-level and elite program with less added cost than you might assume. Reducing cost, improving compliance and sustainability – while maximizing safety – are some of the key components to include in all programs.

View this webinar for insight on:
The hazardous materials lifecycle
Regulatory compliance and the importance of accurate assessment data
Sustainability through waste minimization, tracking metrics, and adopting circular economy principles
Safety and security options


Speaker Profile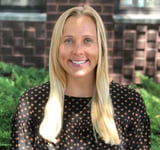 Charlotte Scott is an Environmental Health & Safety (EHS) and sustainability professional with more than eight years of experience in the industry. She holds a bachelor's degree in environmental studies from Hobart & William Smith Colleges and a master's in sustainability management from Columbia University. Through consulting and working with many businesses, Charlotte has a comprehensive understanding of EHS and sustainability management and will share recommended best practices in this webinar.