Overview
This webinar will take an in-depth look at three waste streams produced by the healthcare industry. It will show you how to thoroughly and expediently analyze your own waste streams as well as provide you with real life tactics for cost-efficient waste stream management.
Speaker Profile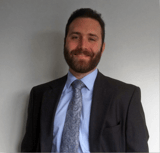 Steve Todisco is the Corporate Director of Healthcare at Triumvirate Environmental. He has 12 years of experience in the environmental services field and specializes in solutions for healthcare organizations. Steve is responsible for the design and oversight of Triumvirate's Pharmaceutical, Sustainability and Regulated Medical Waste initiatives developed to identify and resolve compliance management inefficiencies.

Steve is an active voice within the healthcare industry and a regular speaker for national, regional and local events, as well as Triumvirate's Educational Roundtable series. He has instructed on Healthcare facility inspection and hazardous waste compliance for the EPA's region 3 and is a certified Healthcare Environmental Manager (HEM), and Certified Hazardous Materials Manager (CHMM).