Overview
Managing sharps and regulated medical waste (RMW) can be a costly and complicated process for healthcare facilities. Staying OSHA and RCRA compliant is a top priority, in addition to keeping costs down and operational efficiency up. This webinar will teach you how to revamp your program in a way that streamlines your RMW process to boost safety, efficiency and cost savings.
Watch to:
Learn how to maximize container utilization and cleanliness
Gain strategies for improving interdepartmental communication and alignment, including EVS, Nursing, Infection Control, and Facilities
Identify best practices for training service support staff and nurses on proper procedures
Learn how to minimize patient and service disruption when changing vendors
Hear how other hospitals improved operational efficiency across their sharps and RMW programs
Speaker Profile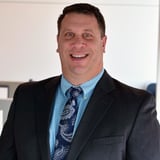 Joseph Fazio Jr is Project Director of EHS Consulting at Triumvirate Environmental, where he provides on-site technical support and outsourced program management to healthcare clients. Areas of technical expertise include: Biosafety, Occupational Health and Safety, Radiation Safety, Risk Assessment, EHS Auditing and Emergency Management.