Overview
When vacating a space, are you liable for unexpected costs or risk? Lease obligations are typically vague and there are no set regulations to help guide the process. This webinar provides information on liability drivers and issues associated with decontamination and decommissioning projects.
Watch to:
Understand potential liability as it applies to a decommissioning project
Gain best practices to ensure your organization is protected
Learn how to get started on your laboratory closure or move
Hear lessons learned from real-world decommissioning projects
Speaker Profile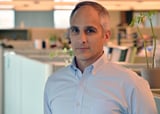 Craig Sasse has been employed at Triumvirate for over 6 years and has worked as an environmental consultant for over 19 years. He currently specializes in performing environmental consulting and engineering services to assess, manage and mitigate environmental liability. Mr. Sasse has led many decommissioning projects.