Overview
Laboratory relocation is a common and, at times, inevitable event that organizations need to be prepared for. Whether you are expanding into a new space, renovating, moving operations, consolidating laboratories, or decommissioning a facility, laboratory cleanout and relocation can be complicated and costly. Hear from a Triumvirate expert as he shares tips and tricks for executing a safe and efficient laboratory relocation.
Watch this free webinar to learn how to:
Maintain Business Continuity During Your Move
Learn how the proposed regulation impacts small and large quantity generators as well as pharmaceutical reverse distributors
Obtain Regulatory Licenses, Permits and Other Programs
Speaker Profile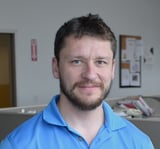 Ian Lanza is Regional Director of Life Sciences at Triumvirate Environmental.He works to add value to companies by improving sustainability, environmental, and safety performance, while driving costs down. He works closely with the world's premiere biotech and pharmaceutical companies and executive leadership to identify sustainability and environmental opportunities that can have short-term and long-term impacts. He has successfully lead and managed numerous lab relocation projects. He has been employed by Triumvirate Environmental for over 8 years.