Overview
Now that the logistics for your lab move have been planned, it's time to start thinking about the process for handling chemicals and other sensitive materials. When packing chemicals, lab managers must consider chemical compositions and regulations to ensure safety during the move.
View this webinar for:
Strategies to ensure safety during a lab pack
Tips to maximize efficiency during your lab pack
Lessons from real-world lab pack projects
Speaker Profile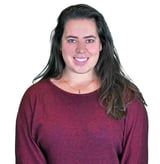 Katie Morrissey
has worked at Triumvirate for over 8 years since graduating from Western New England University with a B.S. in Chemistry. She began her career in the field working at client sites to help maintain compliance and performing lab moves and chemical cleanouts. She has since moved into a new role where she oversees all paperwork shipping through the New England branch of Triumvirate to ensure full compliance, provides internal technical and regulatory compliance support, and helping to manage projects including lab moves, lab packs and inventory projects.