Overview
At the end of your laboratory relocation, it is necessary to ensure the old lab space is properly decontaminated and that the decontamination is properly documented. Thorough decontamination and documentation is necessary to ensure there is no contamination and all lease requirements are fulfilled when moving lab spaces. During this webinar, you will learn about managing the decommissioning and decontamination of spaces and equipment and how to make sure no environmental liability remains.
View this webinar to:
Learn how to identify, manage, and eliminate contamination
Understand how to properly document the decontamination process for spaces and equipment
Hear lessons learned from real-world decontamination projects
Speaker Profile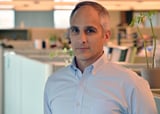 Craig Sasse has been employed at Triumvirate for over 8 years and has worked as an environmental consultant for over 20 years. He currently specializes in performing environmental consulting and engineering services to assess, manage and mitigate environmental liability. Mr. Sasse has led many decontamination projects.