Overview
Laboratory relocations are inherently disruptive to an organization and can be hectic given how many people in the organization are affected, and the number of stakeholders required to pull off a successful relocation. Like any project, lab relocations require strong and competent project management to be successful in reducing the impact to the organization.
View this webinar for tips to:
Apply basic Project Management concepts to a laboratory relocation
Engage stakeholders and build a project team
Discuss unique variables that impact scope, time, and budget of laboratory relocations
Identify common risks and pitfalls of this type of project
Reduce the risks of the project
Speaker Profile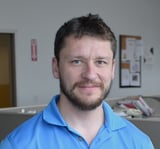 Ian Lanza
is the Director of Onsite Support Services at Triumvirate Environmental where he is responsible for leading the company's onsite programs. This includes service quality, service innovation, marketing and talent development. Through Triumvirate's onsite programs and integrated services, he helps companies improve sustainability, environmental, and safety performance, while driving costs down. He works closely with the world's premiere biotech and pharmaceutical, healthcare, and higher education institutions to identify sustainability and environmental opportunities that can have short-term and long-term impacts. Ian has been employed by Triumvirate Environmental for over twelve years.