Overview
Laboratories have traditionally collected liquid chemical waste in glass containers without much regard to the potential risks. Unfortunately, this often results in broken collection containers and the release of hazardous, non-compliant vapors into the air. As a way to provide an increased level of safety, compliance, and efficiency, Triumvirate has found a new solution to these traditional methods: VOCLok.
View this webinar to:
Understand the flaws in existing collection systems
Learn how VOCLok works and what its many benefits are
Find out what it takes to implement and maintain the new system
Hear how other institutions have benefited from installing VOCLok
Speaker Profile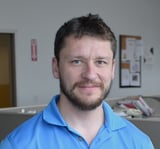 Ian Lanza is Regional Director of Life Sciences at Triumvirate Environmental. He works to add value to companies by improving sustainability, environmental, and safety performance, while driving costs down. He works closely with the world's premiere biotech and pharmaceutical companies and executive leadership to identify sustainability and environmental opportunities that can have short-term and long-term impacts. Ian has been employed by Triumvirate Environmental for over ten years.