Overview
Landfill and incineration are the two most common methods of waste disposal, but there are more cost-effective and sustainable solutions you should be taking advantage of. We understand the diversity in waste streams as well as the differences in generator priorities, which is why we hosted this webinar on waste disposal alternatives.
Instead of shying away from the road less traveled, our waste management expert:
Outlines the various waste disposal options and technologies available
Weighs the pros and cons of solvent recovery and considerations for using this method
Presents a business case for waste-to-energy and the lasting benefits that can result
While waste disposal may seem like a cut-and-dried task, there are more possibilities that exist and should bear some consideration.


Speaker Profile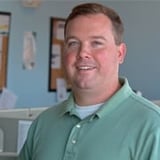 As our corporate disposal coordinator, Mike Farrell manages relationships with third party disposal and recycling facilities. This includes coordination with highway and rail transportation and receiving facilities such as landfills, incinerators, wastewater treatment and recycling facilities. He assists the sales team in quoting and developing business, and trains internal operations team members on waste disposal technologies and cost management. Mike also manages our radioactive and mixed waste programs.