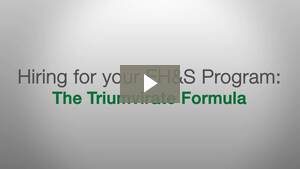 We know predetermined options don't always fit
your organization. In fact, they can be costly, time consuming, and unnecessary. What will fit your organization? Expert advice, collaboration, and a program designed just for you.


Triumvirate's Onsite Support Services offer individualized EHS consulting and support on a predetermined, reoccuring basis. Our expert, onsite support specialists serve as an extension of our client's EHS department with the primary funciton of assisting in waste management and disposal, recycling, training, consulting, safety and compliance programs. Support specialists don't just serve as a technical resource, they add value by solving problems and implementing solution.

Download our cutsheet on our OSS services here.
Watch the video above to see how our selective hiring process and experience in the field has helped Enanta Pharmaceuticals.



Lab Safety & Compliance

Chemical Hygiene Plan Management

Chemical Inventory Management

Flammable Permit Management

Eyewash & Safety Shower Inspections

Fire Extinguisher Planning & Training

Biological Safety

Risk Assessments

Compliance Calendars

SPCC, MAA, SAA & High-Hazard Assessments

Wastewater Operation & Maintenance

Waste Diversion Programs

Sustainability Program Optimization

Chemical Packing

Training - RCRA, DOT, OSHA, IATA, TSCA, etc.

Radiation Sampling & Decontamination

Waste Inspections, Packing & Disposal

And more