Emergency Action Plan (EAP):

This training covers the basics of planning, writing, and implementing EAPs so your employees and community stay safe—and you avoid fines.

Chemical Hygiene Plan (CHP):

Our training introduces the basic required properties of CHPs to make sure you are creating a plan that is efficient and effective.

Biosafety:

In this training, you will learn how to protect your employees—and the general community—from hazardous biological agents.

Bloodborne Pathogens:

This training explores OSHA's Bloodborne Pathogens standard, covering what employers must do to protect workers who are occupationally exposed to blood or other potentially infectious materials (OPIMs).

Hazard Communication:

In this training, you will learn how to ensure proper hazard communication within the workplace, including all relevant OSHA and Global Harmonized System of Classification and Labeling of Chemicals (GHS) requirements.

Hazardous Waste Management:

This awareness-level training will familiarize employees with hazardous waste management standards and orients them to hazardous waste materials criteria.

Ergonomics:

This training will ensure that workers are aware of the risks associated with improper ergonomics in the workplace and will stress the benefits of embracing and prioritizing correct ergonomics.
Triumvirate Environmental is here to support you at every step of your training process. To learn more about these topics and how we present them, fill out the form below.
3 Components of Our Custom On-Demand Training Program
Every organization has different training needs, but all organizations require some type of training. No matter the size, scope, and training progress of your company, our EHSLearn™: Custom can help you train smarter, faster, and more affordably. Based on your organization's specific EHS training requirements, we can tailor the most effective program for you.


Assess Your Training Needs
How would you rate your current EHS training program? How easily can you respond to audits or requests for training data? Are your regulatory trainings held in person or accessible to remote workers? Our experienced team will evaluate your organization's unique training needs to answer these questions and will:
Identify regulatory compliance training gaps, including: unmet EHS training requirements, high incident rates, or expensive, outdated, or ineffective training methods
Determine which employees fall under which regulations, which employees need which trainings, and if any employees are out of date with required trainings
Provide expertise on EPA, FDA, DOT, OSHA, and state-specific training requirements such as Cal/OSHA
This assessment will give our team an understanding of your current training environment and provide a foundation on which to build your specific program.

Develop Cutting-Edge eLearning Content
After our team evaluates your organization's existing training landscape and identifies your needs, we will develop a comprehensive and dynamic EHS training program that is engaging and memorable, including elements such as:
Interactive, SCORM-compliant training content that allows for transparency and accountability from start to finish
Engaging quizzes, animations, and simulations that motivate employees to retain crucial information they need to stay safe
State- and site-specific content relevant to your employees' everyday lives
Custom branding to keep the look and feel of trainings consistent with your organization's unique culture
We apply Adult Learning Theory throughout the process to ensure trainings stay engaging and fun, resulting in maximum retention. We prioritize what the learner needs: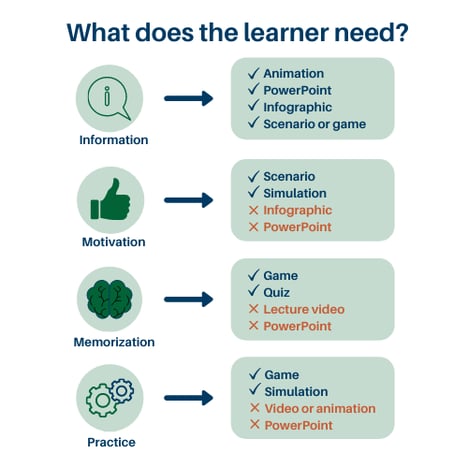 To learn more about the importance of Adult Learning Theory and how we use it in creating our trainings, fill out the form below.
Deliver, Track, and Report Via an LMS
We can provide our custom self-paced trainings as well as the online, cloud-based Learning Management System (LMS) from which to deploy them. Our LMS can house all of your organization's training content—as well as training records and other essential information, including:
Certificates of completion and transcript data
Accurate training expiration dates
Audit-ready training data that can be produced and/or referred to at any time
Up-to-date employee rosters to ensure the appropriate trainings are assigned to those who need them
To keep your organization compliant, if you chose to use our LMS, our team will provide ongoing management of your learning programs while working toward long-term automation. Support ranges from providing as-needed consulting to fully administering your turnkey program. We'll even customize your LMS site with your organization's branding for a unified training experience. Already have an LMS? We can provide custom modules for use in your current system.
Let Us Be Your Training Partner
Triumvirate's unique expertise in EHS operations, regulatory training, and Adult Learning Theory, supported by industry-proven training software, results in a simple yet comprehensive learning management program. EHSLearn™: Custom provides you with a complete EHS training program that is sustainable and resilient. Call us at 617-715-9055 or fill out the form below to discuss your training needs.