Lab sustainability is a vital concern at Triumvirate Environmental—as the intersection of sustainability, environmental stewardship, and safety has never been more clear. Within the biotech industry, labs set the standard for scientific discovery and innovation—and as such, have the opportunity to lead this sustainability push and prove that protecting the environment is possible without sacrificing operations or research integrity. In a world that is continually, increasingly demanding sustainability from organizations, Triumvirate Environmental is here to help labs across the country reach their sustainability goals. Contact us today to learn more.


Partnership with My Green Lab
As a leader in this space, Triumvirate Environmental is proud to announce that we are a Transformative Sponsor of My Green Lab, a non-profit dedicated to improving the sustainability of scientific research. My Green Lab works with research labs globally to make them more sustainable—including by developing realistic recommendations and goals for lab spaces, helping to oversee implementation of sustainability initiatives within these spaces, and offering recognition in the form of certifications for those labs that meet these goals.
My Green Lab helps usher in real change—work which is environmentally sustainable and contributes to lower operating costs, something that is crucial to Triumvirate Environmental as we work to help enable our clients to reach their operational sustainability goals easily and with a supportive and capable EHS partner.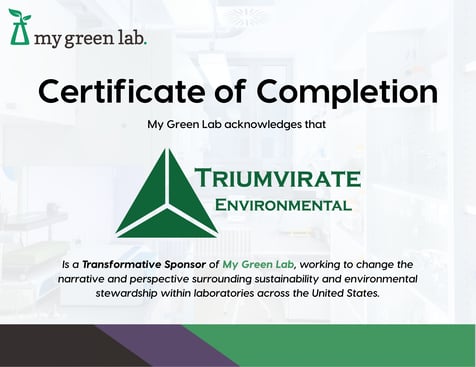 Unsure of How—or Why—to Improve Your Lab Sustainability?
Triumvirate Environmental can help with all of your lab sustainability needs, while bridging the gap between bench science and environmental sustainability. We offer onsite EHS sustainability support with advice, tips, tricks, and best practices, as well as the ability to partner as a sustainable service provider—enabling your facility to become more sustainable, safer, and increasingly attractive to the market for ultimate product support.
Having Triumvirate Environmental sustainability-accredited experts on site gives you a leg up—helping you make more sustainable choices and analyze the ways that you can improve the overall sustainability of your lab. We bring in the change managers you need to support the motivated group of individuals you work with.


How Does My Green Lab Certification Work?
As a lab manager, you are likely wondering about the process of your lab becoming My Green Lab certified. Here is an overview:
Self-Assessment: Complete the My Green Lab self-assessment to analyze your lab's baseline level of sustainability. This self-assessment considers everything from green chemistry to procurement, waste to energy, water usage to company engagement, and more.


Implement Changes: Based on the recommendations in the self-assessment, you will need to discuss potential solutions and change your practices accordingly. Ultimately, this step is dependent on creation of a change culture to support long-term success—remember, the full lab needs to participate in this large team effort, not just one or two people.

This is where Triumvirate Environmental can help, as a partner for sustainable services and/or on your site with a qualified team of environmental specialists. You may need a new partner for sustainable waste management (like regulated waste recycling), or you may benefit from the installation of energy timers.


Get Certified: A certification level is assigned in accordance with how many changes were implemented and the updated level of lab sustainability.


Make More Changes: In any lab, it is important that the team doesn't just hit the basics, but instead continues to consistently increase sustainability efforts. Industry, lab use, and sustainability processes and best practices will change over time, and regular review of programs will help ensure that sustainability is a continually updated priority—from ordering to use and disposal and beyond.

Repeatedly assess your level of sustainability and continue to make changes as you see fit to increase the overall sustainability of your lab—as it is here that long-term implementation and continued success needs to be driven by top-down support.


Recertify: With subsequent changes, recertification will prove your continued pursuit of sustainability best practices. Engagement will be key to making sure recertification is positive and a sustainability culture is implemented along the way.

For ultimate success, continually climb the certification "ladder" to keep lowering your operating costs and saving the environment. Raising the bar year after year will result in achievement of environmental, social, and governance (ESG) goals required for reporting.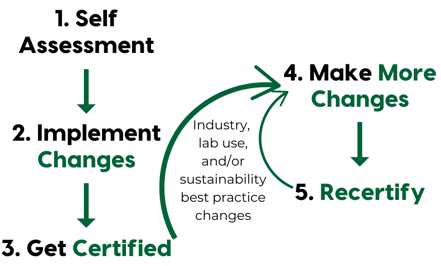 Within this, lab workers will have the opportunity to participate in the My Green Lab Ambassador Program and then have the potential to receive Accredited Professional (AP) certification:
The Ambassador Program is an efficient, quick, and free yet very informative course designed for laboratory staff who are motivated to get their lab certified. It provides an overview of lab sustainability, offers ideas to jumpstart your lab's sustainability program implementation, and discusses ways to get other lab members on board with sustainability initiatives.
The AP certification offered by My Green Lab is a paid certification that expands on lab sustainability knowledge and explores industry best practices in more detail. This scientific sustainability accreditation is the first of its kind—and once completed, allows those scientists and other lab workers who take it to demonstrate their experience, bring new ideas, and drive change. Certification allows you to be a leader in an industry that constantly strives to change the world, one cell at a time.
Quick Wins
To help kickstart your lab sustainability journey, check out some ideas you can start implementing today:
Waste Recycling, Reuse, and Diversion: Look into what waste your lab generates and analyze the recyclability of this waste. For all waste that can't be recycled, consider ways that you can get the same job done with a more sustainable product option.


Energy Timers: Energy timers on high-power-draw devices can help make sure that equipment isn't using energy when not needed—but is ready to work when you are. Even the most simple yet overlooked things, like light switches, can be controlled via timers, making sure lab lights are only on when necessary.


"Warming Up" Freezers: By simply raising the temperature of your freezers from -80 to -70 degrees Fahrenheit, you can save energy in the lab—without compromising research integrity.


Install Aerators: Aerators on your faucets will not affect the flow rate, but will result in less water being used during rinses and washes in the lab.


Green Chemistry and Management: Choose greener alternatives to common lab chemicals to improve sustainability at the source, and incorporate state-of-the-art chemical inventory management software into your operations to eliminate overordering and subsequent disposal of expired chemicals. Both of these options will not affect research integrity, but will help keep the planet and the lab safer.
Ready to Get Started?
Contact Triumvirate Environmental to learn more about how you can reach your lab sustainability goals. Fill out the form below and our team will connect with you.