A Harmonization of EHS Expertise and Onsite Waste Management Services
EHSOneTM is a unique delivery model that provides professional services staffing to manage your EHS program. With a full spectrum of EHS professionals, we manage your hazardous materials while providing operational and compliance-focused support. EHSOneTM provides unified program management with:
Skilled EHS professionals embedded at your site

Access to a deep team of experts

Coordinated communication to enable you to maintain a long-term, sustainable EHS compliance program and operation
Why EHSOneTM
?
By entrusting your EHS program to our experts, you and your team can focus on your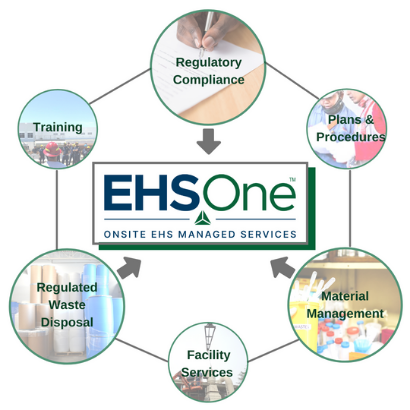 high-level priorities and core program competencies. Through EHSOneTM, you have access to Triumvirate's wealth of onsite operations muscle and sophisticated regulatory and compliance expertise. In addition to onsite talent, you will also benefit from our broad internal network of EHS knowledge and know-how. With decades of industry-specific experience, our experts understand your unique challenges and have the depth of knowledge needed to ensure your operations run smoothly and compliantly.

No longer will you need to struggle with numerous vendors and multiple contracts to run your department: Through one program, we can seamlessly manage many or all of your EHS functions. Your Triumvirate team of dedicated resources can increase as your company grows and be customized based on the complexity of your needs. As new initiatives emerge, we will provide the appropriate subject matter experts, keeping your operations running smoothly.
One Set of Shared Goals
As a member of the EHSOneTM program, your organization will benefit from:
The result is a solid partnership tailored to meet your organization's unique needs
and achieve your vision for success
.
Unparalleled Expertise and Transparency
Led by your dedicated EHSOneTM Lead, you will have access to program delivery by the following:
Proactive communication channels with stakeholders to discuss goals, Key Performance Indicators (KPIs), and program

requirements

A best-in-class methodology comprised of processes and data-driven management developed through thousands of client engagements

Easily accessible executive governance documents with status reports

A detailed Compliance Calendar that ensures timely permit management and regulatory reporting submissions

Site-specific plans and procedures, with applicable ongoing training

EHS software tools, including ADVISE, EHS Learning Lab, and chemical inventory management software

A Perfect Match
With proven safety processes, innovative technology, and our network of experienced professionals, Triumvirate's team can help ensure environmental, health, and safety compliance for your organization. Through a comprehensive approach, we can manage your EHS functions so you can focus on your core, high priority business goals. Call us at 617-715-9055 or fill out the form below to learn more about EHSOneTM.