Overview
Permit-required confined spaces pose increased risk of exposure to serious physical injury or death from hazards including entrapment, engulfment, and hazardous atmospheric conditions to employees. Without the proper equipment, procedures, or knowledge, a worker exposed to hazardous atmospheric conditions in a confined space could experience brain damage or death in four minutes. The OSHA standard 29 CFR 1910.146 provides regulations to protect employees entering permit-required confined spaces. Is your workplace fully compliant with the OSHA standard?
View this webinar for:
A complete understanding of which spaces meet OSHA's definition of "permit-required confined space"
A breakdown of OSHA's confined space standard and how to ensure your organization is fully compliant
The key steps to ensuring your employees are protected when entering confined spaces
Speaker Profile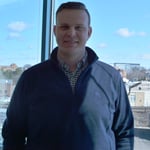 Alex Rutledge is an Environmental Health and Safety Consultant with Triumvirate Environmental. Alex has experience in creating and implementing health and safety programs, providing external safety and regulatory trainings, and assisting in the revitalization of safety programs in a variety of organizations. Alex's current work includes consulting with industrial, biotech, pharmaceutical, and higher education clients in the Boston and Providence areas. He provides support to his clients in the development, implementation and maintenance of site safety policies and procedures while being a resource for training, audits, program development and day-to-day client activities as required.