7 EHS Steps to Take During Your Students' Summer Break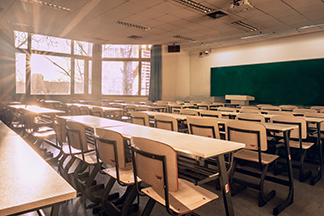 Another school year has passed, and despite the collective sigh of relief heard across campus, the work is not done yet.

The transition between final exams and the start of the next semester is the perfect time to clean out and decontaminate your labs, inventory materials, and improve various systems throughout campus. Colleges and universities face many tasks and challenges while preparing for the next round of studies, and a combined effort between EHS, laboratory, and facilities employees is necessary to keep the campus safe and compliant.

Here are seven steps to take to make the most of the summer break:
1. Inventory All Hazardous and Nonhazardous Materials
Now that the students have left, it's time to regain control of the inventory of hazardous and nonhazardous materials within the labs and throughout campus. Properly inventorying materials will help ensure safety and compliance while also helping to identify purchasing needs. Don't forget to check all chemicals in your main accumulation areas (MAAs) and satellite accumulation areas (SAAs). Implementing a chemical inventory management program can make this process more accurate and efficient – and enable you to easily keep track of your materials on an ongoing basis throughout the year.
2. Properly Dispose of Hazardous and Nonhazardous Wastes
Disposing the hazardous and nonhazardous wastes you have on campus will ensure that the environment is safe for any summer visitors or staff who may not be aware of the dangers of the materials. Properly removing these wastes also helps prepare labs and other spaces for returning students and faculty.
3. Manage Universal Waste
What is considered universal waste? Batteries, bulbs, electronic devices, non-empty aerosol cans, and mercury-containing tools and equipment are universal waste that must be disposed of properly according to state-specific regulations. Universal waste can be found outside the labs – make sure you establish collection areas and disposal plans for universal waste that may be in other buildings and dorms. You'll improve campus sustainability and promote environmental stewardship.
4. Decontaminate Labs
You'll want to decontaminate your lab spaces before the next round of students or researchers begin using them. Surfaces, systems, piping, and ducts that are in contact with hazardous materials should be thoroughly decontaminated. Taking care to do this properly will help ensure that the lab environment is safe for its users as well as for the employees and visitors of the facility. It will also help prevent cross-contamination for upcoming research and experimentation.
5. Identify Routine Maintenance Needs
Thorough inspections will pinpoint areas for operational improvement while identifying flaws and weaknesses in systems that may require additional design and installation. You should inspect eyewash and shower stations, wastewater systems, oil/water separators, ASTs and USTs, neutralization tanks, catch basins, and other vital systems, and provide maintenance as needed.
6. Conduct a Compliance Audit
If a state or federal inspector arrived on your campus today, would your facility be in compliance? Unless the answer is a confident "yes," you should perform a compliance audit. An audit will ensure that your permits are up-to-date and that your campus is operating in accordance with all federal, state, and local regulations. Following a compliance calendar can help you stay on track during the summer break and throughout the year.
7. Review Your Budget and Use Remaining Funds
Reviewing your budget and spending any remaining funds to improve your operations will be time – and money – well-spent during the summer break. Remaining budget can be allocated for compliance and safety training, restocking PPE, or performing system maintenance and improvements. You'll also want to start preparing the budget for the next school year.

Regardless of the size, location, or areas or study of your institution, taking time after final exams and graduation to follow these seven best practices will help ensure your campus is safe, compliant, and operating at an optimal level. Triumvirate Environmental's experts can help you every step of the way; contact our team today.