Post Beirut Explosion - Evaluating Your Hazardous Waste Program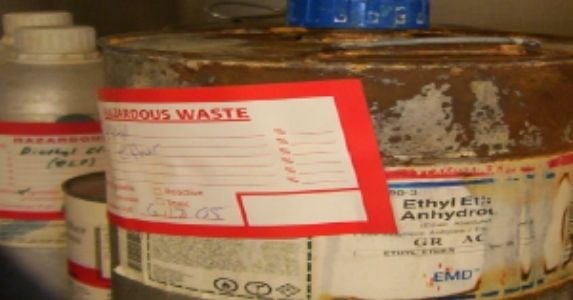 On August 4th, the city of Beirut suffered an extremely deadly and devastating explosion. What was the cause? Improper storage of high hazardous chemicals. At 6pm, "the roof of the warehouse caught alight and there was a large initial explosion, followed by a series of smaller explosions […]. About 30 seconds later, there was a colossal explosion that sent a mushroom cloud into the air and a supersonic blast wave radiating through the city" (BBC, 2020). More than 200 people were tragically killed and over 500 injured. Lebanon's Prime Minister would soon blame the chemical detonation on 2,750 tons of ammonium nitrate that had been unsafely and improperly stored. "Ammonium nitrate has been associated with deadly industrial accidents. In 1947, a ship carrying 2,000 tons of the chemical exploded in Texas, killing 581 people" (BBC, 2020). Previous to this explosion in Beirut there had been multiple written warnings about the danger posed by the stored ammonium nitrate, unfortunately, the requests for removal were repeatedly ignored.
This shook companies all around the world. The importance of a strong environmental, health, and safety (EHS) program came to the forefront of discussions, especially if you were a company that handled, stored, or required disposal of high hazardous chemicals and waste on a routine basis. Does your company produce high-hazardous chemicals or waste? If so, I encourage you to read on.
How Are You Handling Your Highly Hazardous/Potentially Energetic Waste?
As seen from this tragic event, improper management of highly hazardous chemicals and/or waste can lead to serious repercussions. Furthermore, w

hen

hazardous waste is mishandled, organizations are breaking from compliance.
Here are some questions your company should consider:
Do you have chemicals that have been stored for years?

Do you have an inventory of your potentially energetic chemicals?

Do you know where they are stored? If so, where? Who is handling this?

When's the last time you've run an audit?
EHS audits, assessments, and gap analyses help you prepare for inspection visits from the EPA, DEP, OSHA, and other state and local regulatory agencies. Plus, it'll help your company avoid fines, penalties, violations, and not to mention bad press. Not abiding by laws and regulations will eventually lead to such failed inspections and not to mention put you and your employees at risk. In addition to human risks, highly hazardous waste mismanagement is also very harmful for the environment. Pollution, contamination, and leachate are all negative impacts that hazardous waste can have on the environment if not handled properly.

Life Sciences Companies Facing Hazardous Waste
Recently, one of our clients, a growing life science organization in the San Francisco bay area, was faced with a high-hazardous chemical waste disposal issue. This client had peroxide forming, a potentially energetic and unstable material that requires treatment prior to offsite shipment and disposal. Unlike the Beirut incident, this situation was not ignored. The client recognized the hazardous situation and immediately reached out. Luckily, we were able to step in and help. The client was able to leverage our high hazardous waste disposal and transportation services to successfully remove the waste offsite. Our experts continue to work with this California-based client to help manage their high hazardous waste program and help maintain compliance to keep their employees safe.
Our Expertise in Life Sciences
Our expertise in managing high hazardous waste runs deep. Triumvirate Environmental has over 30 years of experience in helping the world's most innovative biotech, pharmaceutical, and life science companies stay safe, productive, and compliant by meeting their needs of proper management and hazardous chemical waste disposal. Our highly trained and experienced life science industry specialists have helped startup research ventures and established pharmaceutical manufacturers with not just hazardous waste management but also EHS compliance as well.
To speak with one of our hazardous waste consultants about an EHS audit or hazardous waste disposal, you can dial directly (888) 834-9697. For more information on hazardous waste disposal and compliance, please visit our Hazardous Waste Disposal page by clicking the link below.