Think You Can't Recycle These 8 Common Lab Wastes? Think Again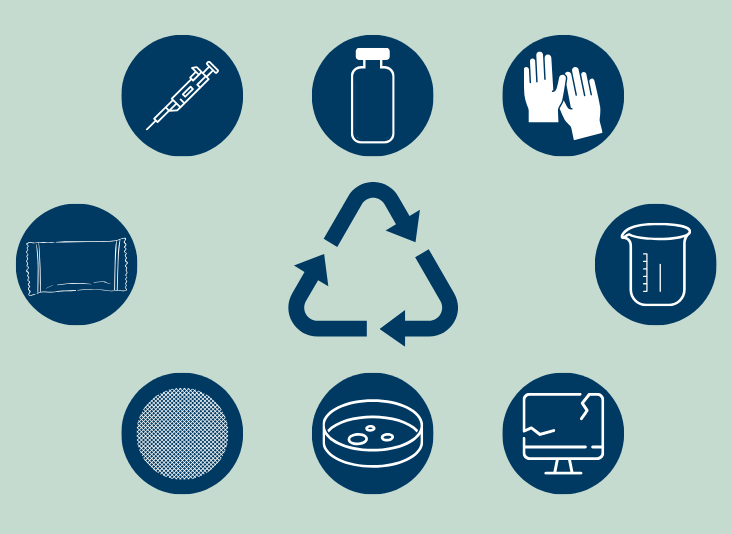 Laboratory sustainability may not be as unattainable as it seems. In fact, there is some low-hanging fruit available to kickstart the journey to lab sustainability—recycling of commonplace lab items traditionally considered impossible to sustainably dispose of.
Labs are highly specialized, technical workplaces where research and innovation thrive. These spaces can be dangerous, however, as scientists often need to interact with hazardous or biologically-contaminated materials. Given this, gloves, gowns, containers, solvents, and other materials are typically used only once before being discarded, to help protect human and community health.
As a result, labs generate billions of pounds of waste annually. One study found that research labs alone produce 12 billion pounds of plastic waste a year—not to mention generated waste of other types. It can seem daunting to handle all of this waste in an eco-friendly way—but with a rise in public demand for organizational sustainability and growing concern for planetary health, lab managers and staff need to find ways to sustainably dispose of waste. Luckily, contrary to public belief, there are a number of common lab wastes that can be successfully and efficiently recycled and given a second life.
Changing Laboratory Eco Sensitivity
Overall, the public and the federal government alike are demanding more green practices in business and research. This means that for higher education, life sciences, healthcare, and industrial organizations, it's becoming more important to adopt sustainable waste management practices.
Turning to eco-friendly practices is not just the right thing to do—it's a necessity. Research indicates that 80% of consumers prefer to support companies with a stronger approach to sustainability. Benefits of going green include:
Improved brand and image
Meeting sustainability goals
Operational and procurement improvements
And more
Lab Waste Recycling Challenges
It's well known that lab waste is notoriously difficult to recycle. Many believe that lab waste cannot be recycled at all due to its very nature of contact with hazardous or contaminated materials. Others know that some lab items may be recyclable but lack the resources or infrastructure to sort through and determine the best waste disposal strategy for every single item, especially when the lab is running many experiments or samples.
For waste streams like electronic waste (e-waste) or mechanical tools, which comprise of many complex components that may or may not be recyclable themselves, it may seem like more trouble than it's worth to break down every component and dispose of each sustainably. On top of this, machines may contain toxic heavy metals that again challenge safe and efficient recycling.
Then there are the smaller-form lab materials such as plastic packaging or glass vials. Depending on the experiment, these materials may be biologically-contaminated or otherwise compromised. They are also often smaller and thinner than other objects and so require special handling that many recycling facilities are unable to provide.
On top of this, even if lab staff do their best to recycle, it is likely that one facility will be unable to process every waste stream. The variety of materials used throughout lab work can make recycling difficult if the recycling plant is not poised to recycle all these streams, separated or not. This may mean transport of certain waste streams to one plant for recycling and sending of other streams to another—and a lack of cohesive and efficient recycling for all materials. Items that could be recycled together may now not be recycled at all if their heterogenous components cannot be separated and one plant can't process the materials together.
Recyclable Lab Waste Streams
Given these challenges, many write off recycling and landfill or incinerate waste instead. Luckily, however, specialized processes are available that can address all the challenges of traditional lab waste recycling—including disinfection and cleanliness concerns. Utilizing these recycling processes can result in more lab waste recycling overall, helping you on your sustainability journey.
These eight common lab items can, via correct processes, actually be recycled:
Pipette tip boxes: These containers are often discarded after a single use. They are often made of polypropylene, however—one of the most easily recyclable plastic polymers. Often, these boxes never come into contact with hazardous or biological materials, so pre-recycling disinfection is less of a concern.


Glass vials: Glass is infinitely recyclable

without

a loss in quality. Once a glass vial's cap and label are removed, the item is ready for recycling.


Disposable gloves:

After use, single-wear gloves are typically discarded as regular waste. Certain recycling processes exist, however, that can recycle this otherwise thin and potentially contaminated plastic in a safe and efficient way.




Plastic beakers and flasks: These items are often made of polypropylene

or

polycarbonate

, two plastic polymers that are very recyclable with minor disinfection.




E-waste: Old computers, printers, and other larger lab equipment contain valuable materials including metals, plastics, and glass. When properly disassembled and sorted, e-waste can be easily recycled. The more time spent sorting the components upstream, the easier they are to manage downstream—but can be recycled with special processes regardless.


Petri dishes and culture plates: Managers or EHS staff are frequently wary of recycling these as they are often contaminated with hazardous or biological substances. Properly disinfected, however, they are easily recycled.


Filter paper: Depending on their composition, filters can be recycled along with other paper products.


Plastic packaging materials: Traditional recycling systems are unable to handle the often thin plastic packaging material that protects lab supplies and equipment shipments. The polymers often used to make packaging materials are easily recyclable, however—the right recycling plant will be able to manage thin plastics.
The Right Recycling Partner
Interested in partnering for lab waste recycling? A reliable partner will be capable of appropriately and sustainably recycling all of these common lab wastes, among others. Not all recycling programs accept the same materials, and hazardous lab items may require special handling or disposal that certain partners cannot provide. As such, it is crucial to find a recycling partner that observes all applicable regulations and guidelines as well as manages your waste in a way that easily, efficiently, and sustainably suits your needs, without operations interruption.
A full recycling and waste management disposal partner can take the burden of compliance and safety from you. Ideally, your partner can:
Triumvirate Environmental offers these services and more. Our industrial waste recycling capabilities can recycle all sorts of waste streams—contaminated or clean, sorted or not, hazardous or nonhazardous—and help you continue to find value in them at the end of their useful life. Contact us today to learn more.