Wastewater Sampling to Prevent a COVID-19 Outbreak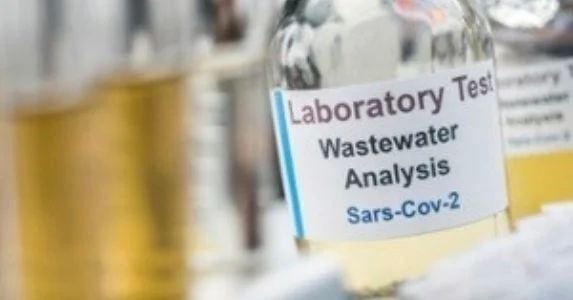 Studies have found that SARS-CoV-2 can be identified in its early stages of infection in waterwaste. Data collected through this sampling process can "enable decision makers to have increased confidence in the quality of the data collected for wastewater surveillance." (Water Resource Foundation). Going forward, businesses and populations can test their wastewater to identify SARS-CoV-2 and greatly reduce and even prevent the spread of the virus.
How Wastewater Sampling Works
By identifying concentrations of SARS-CoV-2 in sewage, COVID-19 infections can be detected within a building or "sewershed" before occupants show symptoms. According to the Water Resource Foundation, "wastewater surveillance of the genetic signal of SARS-CoV-2 holds significant promise for helping to better understand and predict community spread of COVID-19."
An objective of wastewater sampling and analysis is to monitor a sewershed for infected individuals. Periodic wastewater testing and analysis (one or more times a week) can identify pre-symptomatic and asymptomatic individuals in the area being sampled. Additionally, techniques are becoming available to estimate the number of infected individuals present in a sewershed. The program can identify a SARS-CoV-2 infection at a building up to 5-7 days before diagnostic testing and up to 7-10 days before symptoms appear. This early detection window allows organizations time to prevent transmission and identify infected individuals before they spread the virus. A wastewater sampling and analysis program can involve:
Discussing and confirming the program's objectives in concert with other pandemic responses.

Developing a clear action plan to respond to positive results.

Identifying and configuring sampling locations.

Setting up an appropriate sampler.

Performing PCR testing and analysis of samples for identification of SARS-CoV-2.
Sampling Plans
Going forward, each organization should develop a wastewater sampling strategy. Specific plans should be based on each individual facility and population size. Wastewater monitoring can be designed for one or more higher-density buildings, a high-risk or high-value group, or larger screenings as a precursor of sick persons or indicator of overall presence. As data becomes available, trends can be evaluated.
Per the Water Resource Foundation, with guidance from the CDC, there are five universal components involved with wastewater sampling:
Safety

Wear required PPE such as safety gloves, glasses, masks, or face shields.

Equipment and Preliminary Activities

Clean and prepare all sample equipment.

New/clean sample bottles should be used. If unavailable, the best alternative is autoclaved bottles.

Sample Collection

Ensure sampling draws from a well-mixed part of the stream.

Collect a sample volume of at least 1L.

Composite samples are preferred over grab samples. Composite samplers need to purge following the collection of each discrete sample to preclude accumulation of solids in sampler tubing.

Measure additional sample characteristics including air temperature, water temperature, wastewater flow rate, pH, total suspended solids, and chlorine residual.

Documentation

Label containers with sample site, date, time, sampler initials, and sample identification number.

Complete a documentation form.

Sample Transport, Storage, and Preservation

Samples should be refrigerated during transport. Samples should be received by the laboratory as soon as possible, within 24 hours.

Once at the laboratory, sample temperature should be recorded. Samples should be stored at 4°C, or 39°F, and processed as soon as possible (up to two weeks).

If possible, store filtered samples rather than raw sewage samples. Methods used for solids removal and concentration should be documented (i.e., filtration, centrifugation, precipitation, skim milk approach). Archived samples may be used in future studies/investigations.
Going Forward
After conducting wastewater testing, significant information can be concluded; therefore, it is not necessary to conduct daily wastewater tests. According to the Water Resource Foundation, "Assuming a representative composite sample, the SARS-CoV-2 genetic signal is unlikely to vary considerably from day to day, particularly since fecal shedding of SARS-CoV-2 by an infected individual can persist for weeks. Therefore, it may not be necessary to sample daily if sufficient resources are unavailable." With this being said, wastewater sampling and analysis for SARS-CoV-2 and data evaluation is developing day-by-day. "Until the specific survival characteristics of both SARS-CoV-2 and its genetic signal are known, it will not be possible to define an optimized process for sample collection, transport, storage, and analysis for the genetic signal of SARS-CoV-2." (Water Resource Foundation). Further research will be conducted to better understand the characteristics of SARS-CoV-2 and its genetic makeup. Once doing so, populations will be able to accurately test their wastewater for SARS-CoV-2 to maintain a safe and protected environment.
Triumvirate Environmental's experts are skilled in wastewater sampling and experienced with PCR testing and laboratory analysis and can assist your organization in reducing the spread of SARS-CoV-2 and COVID-19.
To learn more about all of the COVID-19 support services Triumvirate offers, please visit our Coronavirus (COVID-19) Decontamination & EHS Support Services page. To contact a member of our team, please dial (888)-834-9697 or click below.