Biological Decontamination Services
Triumvirate Environmental has a highly trained staff, from technicians to Certified Industrial Hygienists, with years of experience in sensitive biological environments. Our team handles challenging biological decontamination projects in various environments and organizations. We are confident our services and expertise can meet your biodecontamination needs. Triumvirate has the flexibility to manage challenging logistics, meet urgent needs, and deliver a wide range of services to support your site-specific projects.
Capabilities
Biological contamination investigations
Biosafety program & EH&S support
Sampling & laboratory analysis
Auditing & assessment of work practices
Developing disinfection programs
Developing protocols to decontaminate spaces & equipment

Decontamination of:

Biosafety & microbiological spaces
Biological safety cabinets
Incubators, glove boxes, shaker tables, & more
Cold rooms
Animal care facilities
Benefits
Rather than just providing a cleaning, Triumvirate's bio decontamination services focus on and deliver lasting solutions. Our process works to: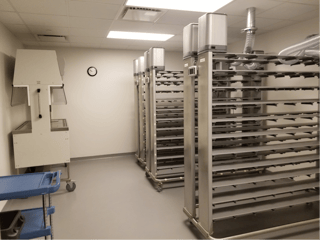 Assure a safe working environment and reduce risk and liability through trained and experienced personnel and robust internal procedures
Complete documentation, plans, and administrative requirements thoroughly and competently
Focus on the process, environment, and surroundings to assure successful decontamination
Provide tailored or à la carte solutions that are flexible and easily modified
Develop and execute turnkey solutions from assessment, program reviews, and decontamination through waste management
To learn more about our process, please view our webinar on best practices for biological decontamination.
Request a free biological decontamination consultation: