Building a Compliant Pharmaceutical Waste Management Program
Pharmaceutical and chemotherapy waste management and disposal regulations can be confusing, leaving healthcare professionals unsure of the right, effective precautionary steps to take.
By definition, pharmaceutical waste includes all expired, unused, contaminated or discontinued drugs (also known as medicines or chemicals) that can no longer be used for humans or animals. Chemotherapy waste, once no longer intended for human or animal use, is really just a sub-set of pharmaceutical waste.
Broadly speaking, pharmacy waste falls in one of two categories; it is either hazardous or non-hazardous (as defined by the EPA). Thus, it stands to reason that chemotherapy waste also may be either hazardous or non-hazardous. There are currently nine (9) chemotherapy drugs whose waste is listed by the EPA as hazardous since 1976. This list has not been updated and today, there are many more chemotherapy drugs whose waste is much more dangerous to the environment than the original list of nine (9).
The fact is that many pharmaceuticals developed post-RCRA (Resource Conservation & Recovery Act) are far more dangerous to human beings, wildlife and the environment than those currently regulated (and enforced).
Do you really know where your RCRA pharmaceutical waste goes once it leaves your hospital?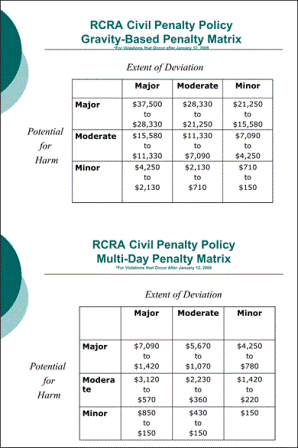 Assuming that it doesn't go down the drain (that would be disastrous), it has to go somewhere once it is segregated, packaged, labeled, manifested and sent on its way. Where it's sent, and how it is transported, however, largely impacts the extent of your cradle-to-grave liability for the inappropriate disposal of EPA/State regulated hazardous waste. Neither you nor your organization may ever be called to task for non-compliance, but, then again, you may. Do you really want to go to sleep at night with the Sword of Damocles hanging over your head? Gravity-based fines or horizontal stripes are generally not welcome outcomes. To begin with, there are DOT compliant transporters who are licensed and trained to ship hazardous waste, and then there are two guys with a truck and a dolly who claim they can do it "cheaply." Have you checked your transporter's DOT record recently? Then there's the matter of where the stuff ends-up…is it being incinerated by a reputable end-disposer who complies with the very stringent regulations promulgated by the federal, state and local authorities, or, is it being shipped to a landfill in New Jersey to reside with Jimmy Hoffa? Perhaps it's being sent for reverse distribution…but what happens to it if you never receive a credit? Where does it go and what happens if it ends-up in the wrong place? You should really know where your pharmaceutical waste goes…not knowing could result in a bad headache.
EPA Compliant Pharmaceutical Programs
Triumvirate can help you build an EPA compliant pharmaceutical program. We will:
Meet with key stakeholders to fully understand your organizational needs
Provide a physical assessment of your site
Audit for safety and regulatory issues
Triumvirate will manage and dispose of your:
P-, D-, and U-listed pharmaceuticals
Trace chemotherapy, mixed chemical, biology, and container waste
Our integrated waste-management plan will recycle as much of your waste as possible to improve your triple bottom line. Our consultants will conduct a composition analysis as the basis for a high-to-low cost waste stream strategy. These efficiencies drive waste minimization.
Beyond cost savings, Triumvirate will help you meet regulatory requirements, and create a safer work environment so you can focus on your true priority – taking care of your patients.