In the News
Somerville Company Offers Free Tuition at UMass Boston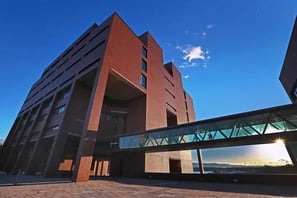 Like many other bosses around here, Triumvirate Environmental's chief executive, John McQuillan, is finding it increasingly tough to find the workers he needs.
McQuillan, though, is taking an unusual approach to solving his problem: He's offering to pay tuition and fees, currently about $13,000 a year, for undergraduate students at the University of Massachusetts Boston if they agree to work for his Somerville company.
Triumvirate wins ELM Green Star Award

The Environmental League of Massachusetts awarded Triumvirate Environmental the Green Star award for our dedication to hazardous waste removal and innovations in sustainability. Triumvirate currently diverts 20% of all clients waste away from incineration and landfills and save clients hundreds of thousands of dollars through these tactics each year. In addition, Triumvirate recently began offering a regulated medical waste disposal alternative that allows for cost effective treatment, recycling and repurposing of regulated medical waste into useful products. Triumvirate also hosts a number of client events and employee activities centered around sustainability.
For these reasons, ELM has chosen Triumvirate Environmental to be the recipient of its Green Star award this year.
Best Practices for Pharmaceutical Waste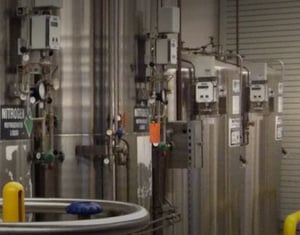 Recycling of regulated medical waste: The standard for years has involved landfilling or incineration of regulated medical waste, which goes against our sustainability goals. Our waste management partner, Triumvirate Environmental, owns a facility permitted to recycle this material. This is helping biotech companies achieve goals that they didn't believe would otherwise be possible.
Closed loop solvent connection system: Many clients ask to improve the collection of harmful vapors created with the labs. Our partner worked with a manufacturer to create a closed loop system that contains the vapor, resulting in a clean atmosphere for the lab workers.
Major Environmental, Health and Safety Survey Finds Staffing and Safety as Top Concerns for 2016
Somerville, MA January 27, 2016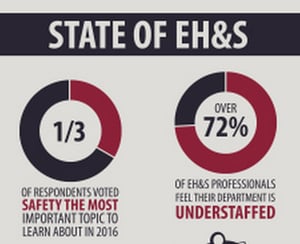 Triumvirate will detail findings and implications of the 2016 State of EH&S Survey in a webinar on January 28, 2 p.m. ET. Registration is open at: bit.ly/EHSwebinar
Triumvirate Environmental today released its first annual "State of EH&S" report analyzing the direction of the environmental health and safety industry. Triumvirate Environmental surveyed close to 200 EH&S professionals across multiple verticals to gain insight on the direction of the industry for 2016 and beyond.

View full article here.

Other Coverage:
EHS Today
Environmental Leader
Finding New Life for Medical Waste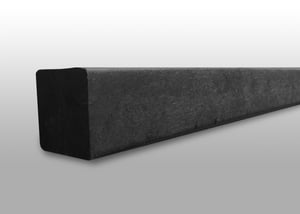 Somerville, MA December 30, 2015
This is not a typical plastics recycling story.

One company is taking medical and pharmaceutical waste and turning that hard-to-recycle material into plastic lumber in Pennsylvania.
And there are plans to expand the now-proven process to sites around the country.
Triumvirate Environmental Inc. is not some start-up company with little more than an idea and a sales pitch. The 30-year-old firm, based in Somerville, Mass., does about $120 million in business a year, primarily in hazardous and medical waste management.
Triumvirate Environmental Creates Periodic Table of EH&S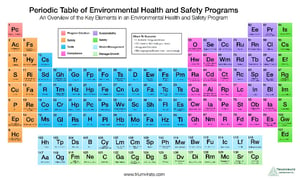 Somerville, MA December 3, 2015

An Environmental Health and Safety (EH&S) program is made up of many critical elements. As a way of organizing some of the most important contributors towards EH&S success, Triumvirate Environmental developed this framework which aggregates, organizes, and prioritizes the programs that EH&S professionals must use daily to achieve their objectives We created this periodic table which broke these elements into 8 major categories of EH&S success (sustainability, safety, compliance, etc.) to help keep things organized.
Historic Jeannette Plant Now Cutting Edge Recycler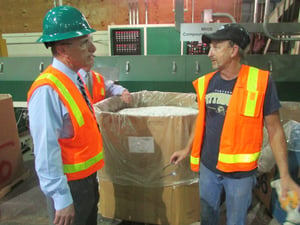 Jeanette, PA September 1, 2015

During World War II, American GIs victoriously fought island to island against the Japanese Empire in the Pacific Theatre. Many of the boats used during this period were manufactured by Elliot Company at the plant on Claridge-Elliott Road in Jeannette, Pennsylvania. Following the war, the factory was sold to Hanlin-Wilson Company to build exhaust manifolds for cars, boats, and planes. Today, the Jeannette plant is operated by Triumvirate Environmental to process non-biological medical waste containers into plastic lumber.
Got a Startup? Rent a Bench.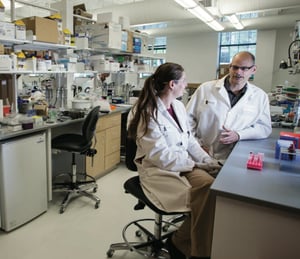 Besides, what fledgling entrepreneur has the time and money to slog through environmental health and safety compliance?
"As a scientist entrepreneur, your time should be exclusively focused on what problem your business can solve and how are you using science to address that," says John McQuillan, CEO and president of Triumvirate Environmental, a LabCentral founding sponsor that provides advice and waste management/environmental services to life science companies. "Any other question ought to be handed over to somebody else."
Triumvirate Environmental Celebrates Earth Day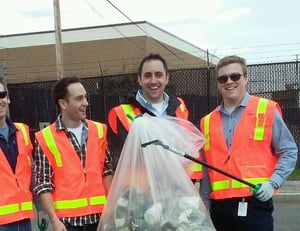 Somerville, MA April 22, 2015
Triumvirate Environmental is dedicated to sustainability 365 days of the year, so when Earth Day rolls around, they feel it's time to show off. Along with several client events and a private service launch of their new
Red2Green regulated medical waste recycling service
, Triumvirate had several employee activities. All employees were encouraged to recycle e-waste with a one-day recycling program, picked up trash in their community and were given flowers and flower pots to decorate.
Triumvirate Environmental Acquires Around the Clock Compliance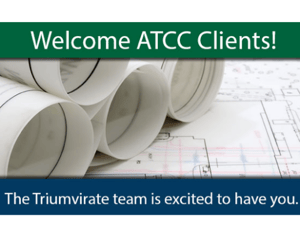 Somerville, MA (PRWEB) April 6, 2015

Triumvirate Environmental Inc. has announced it has officially acquired Around the Clock Compliance (ATCC), a Massachusetts based company that has been in business for nearly 18 years performing various EH&S related consultative services. Triumvirate Environmental is known as a leading provider of enterprise waste management and environmental services up and down the east coast.


Triumvirate Environmental Unveils New Customer Reference Program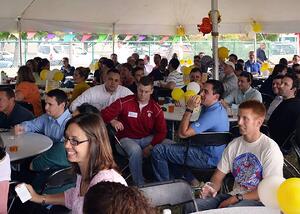 Somerville, MA (PRWEB) October 2, 2014

Triumvirate Environmental, a full service environmental health and safety firm, is rolling out a new approach to integrated customer and employee relations; the company has just released a "WOW" page that shares customer testimonials on their website. This new page includes a variety of top industry references from clients such as Royal Caribbean cruise lines and Cape Cod Hospitals.

Triumvirate Environmental Reacts to High-Demand for Safety Training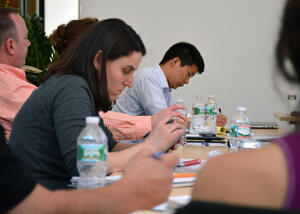 Somerville, MA (PRWEB) August, 12, 2014
As the effort for top-notch workplace safety culture grows, experts claim that regulatory training directly improves the overall safety and culture of a workplace. With through-the-roof satisfaction and higher-than-ever demand Triumvirate has decided to expand its training offerings and locations.

Triumvirate Sponsors "Taste of Somerville"
Somerville, MA June 11, 2014
Triumvirate Environmental sponsored "Taste of Somerville" this year, an annual outdoor food and drink festival that supports local restaurants.
Several Triumvirate employees attended the event including Laura (pictured on the left) who had the honor of meeting Joseph Curtatone, Mayor of Somerville
In Honor of National Safety Month: #Smiles4Safety


Triumvirate Environmental Inc. is launching Smiles 4 Safety (#Smiles4Safety), the first-ever month-long, safety-education series of its kind. This series will be comprised of entertaining and educational images, memes, dance videos and more on workplace safety posted digitally every day.
Each year, the National Safety Council uses June's National Safety Month to bring attention to key safety issues. This includes everything from tripping and falling, to distracted driving, to workplace safety. Triumvirate Environmental is giving workplace safety some extra attention this year.
Triumvirate Environmental Helps Massachusetts Companies Comply with the Commercial Food Waste Ban
Triumvirate Environmental, a full service environmental services company focused on sustainability is hosting a roundtable that teaches businesses and institutions about the upcoming Massachusetts food waste ban. There, attendees will get a comprehensive overview of the ban and receive tips and resources for building a successful waste diversion program. Expert speakers include representatives from Massachusetts Department of Environmental Protection, Environmental Protection Agency, RecyclingWorks, and Beth Israel Deaconess Medical Center.
Triumvirate Environmental Donates $2.5million as Founding Sponsor of LabCentral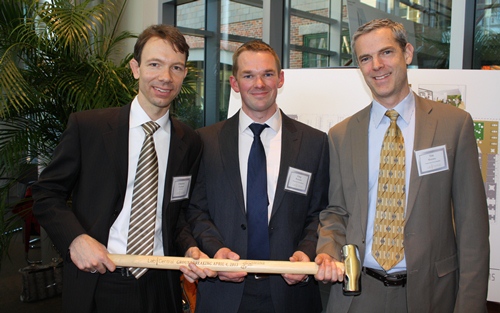 "We are honored to become an integral part of the LabCentral team as its founding sponsor and environmental health and safety provider," said Triumvirate Environmental President and CEO, John McQuillan. Triumvirate became LabCentral's founding sponsor with a gift of $2.5 million. The Somerville, Massachusetts-based company will provide waste-management and environmental health, safety, and compliance services for LabCentral. Other early sponsors for LabCentral include the Novartis Institute for Biomedical Research, Edwards Wildman Palmer LLP, and MIT Investment Management Co.