25 Tips for EH&S Success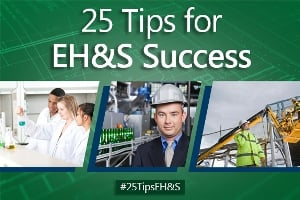 The duties of an EH&S professional can vary greatly depending on the size and nature of their organization; however, success is usually defined using similar variables, such as compliance, safety, and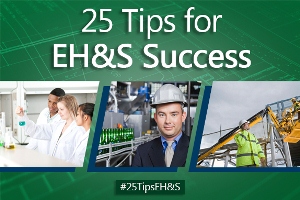 sustainability.
The following tips will help EH&S professionals achieve success and maintain a safe, compliant, healthy, and sustainable operation. Grouped into three segments (Safety, Waste Management, and General EH&S), these tips are meant to serve as stepping stones for EH&S success, and may not be applicable in every situation.
Safety
Give positive recognition to those leaders in your organization who uphold safety in the lab and throughout your facilities.
Have a near-miss program in place that includes reporting incidents and reviewing how to prevent similar situations in the future.
Consider yearly purging of chemicals in your inventory; especially highly reactive, peroxidizable, and explosive materials. (High-Hazard Chemical Management Tips)
Ensure weekly activation of plumbed eyewash and safety showers to meet ANSI standards. (More Eyewash & Safety Shower Best Practices)
Review and evaluate your Chemical Hygiene Plan (CHP) each year, and update if necessary.
Conduct a written job hazard analysis for each operation to ensure that proper PPE is being used.
Waste Management
Know the time limits on waste accumulation in your work areas, and make sure that you do not exceed the regulatory limit.
If you are tracking waste generation manually, consider automating your system to save you time and energy.
Utilize an electronic or web-based manifest, profile, inspection, and inventory tracking tool for centralized data collection and easy reporting. (Check out our cloud-based EH&S data management platform here)
Don't daisy chain extension cords in the lab.
No open chemical waste containers in the lab! Do all researchers know about this rule and understand why it's important?
Label used oil containers/tanks with a "used oil" sign - pretty straightforward.
Inspect hazardous waste storage areas every single week, or be subject to fines.
As soon as a container has any sort of waste in it, it MUST be labeled.
Have a hazardous waste minimization plan as required by the EPA
General EH&S
Don't just train your employees. Keep written records and determine competency of employees post-training.
Know your lease agreement and completely understand the manager/tenant responsibilities.
Avoid response paralysis/uncertainty during emergencies by having a contingency plan in place.
Routinely inspect and maintain facility equipment such as oil/water separators, catch basins, and neutralization tanks.
In healthcare, complete routine formulary reviews to ensure you're aware of exactly what is "on your shelves."
When offering a material for transport back to a supplier, don't rely on the supplier's original DOT shipping determination. As the new offerer, you are now responsible for compliance.
Understand potential hazards before discarding anything down a drain. For example, sodium azide can react with metals commonly found in plumbing infrastructure. (The Dangers of Sodium Azide in Plumbing)
Consider a multi-media audit of your EH&S program to identify any areas of weakness, and benchmark your operation against industry standards and best practices.
If a peroxide-forming solvent is necessary for a certain procedure, try to accurately estimate the amount needed for the procedure to avoid costly disposal of expired or unused amounts.
If it is not absolutely necessary to ship a hazardous article or substance by air, then do not do so. Shipping hazmat by air drastically increases a shipper's liability. (10 Ways to Minimize HazMat Shipping Liability)
If you have any questions about the above tips, please ask us here.
Please share any tips that you have in the comments below!