EH&S Prevention: 9 Facts on Fall Safety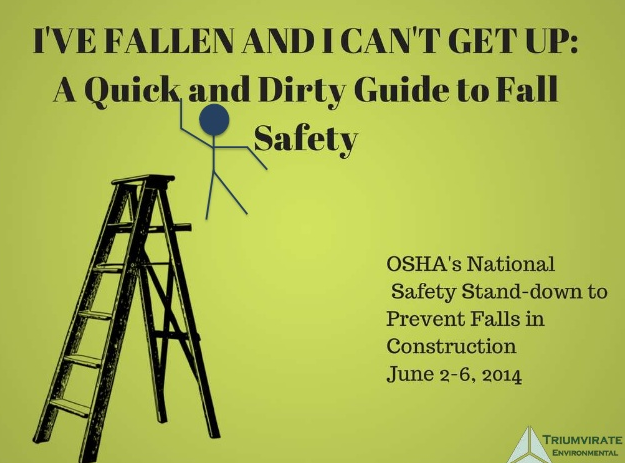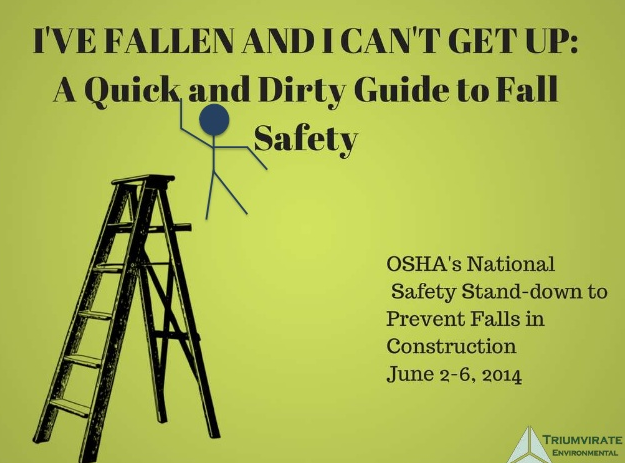 We've all seen the iconic picture of the iron workers sitting on a girder casually taking lunch overlooking the Manhattan skyline. No harnesses. No nothing. Today, those antics just wouldn't fly.
To spread awareness on fall prevention, this week OSHA is hosting a National Stand-Down to Prevent Falls in Construction. In support, we curated our favorite fall facts and slip stats to keep you from falling behind - hehe.
Falls are one of the leading causes of unintentional injuries in the United States, accounting for approximately 8.9 million visits to the emergency department. (NSC)

Vertical lifelines or lanyards must have a minimum breaking strength of 5,000 pounds, and be protected against being cut or abraded. (OSHA)

NIOSH has a smartphone app dedicated entirely to ladder safety. It does everything from helping workers check the angle of their ladder to providing safety guidelines and reference material. (iTunes)

The highest frequency of fall-related fatalities was experienced by the construction industry, while the highest counts of nonfatal fall injuries continue to be associated with the health services and the wholesale and retail industries. (CDC)

Circumstances associated with fall incidents in the work environment frequently involve slippery, cluttered, or unstable walking/working surfaces; unprotected edges; floor holes and wall openings; unsafely positioned ladders; and misused fall protection. In other words, most workplace falls are preventable. (CDC)

In 2010, 4,690 workers were killed on the job, that's more than 90 a week or about 13 a day. (NCOSH)

Workers' compensation and medical costs associated with occupational fall incidents have been estimated at approximately $70 billion annually in the United States. (CDC)

The first project in history where it was required for construction workers to wear hard hats was the building of the Hoover Dam in 1931. (History of Hats)

As of January 1, 1998, body belts are not acceptable as part of a personal fall arrest system, because they impose a danger of internal injuries when stopping a fall. (OSHA)
For info on how to create a fall prevention program at your workplace, check out our guide below!
For more safety-related content from Triumvirate Environmental, check out this other blog post or our #Smiles4Safety content on social. Join the conversation by sharing your safety tips with us on social or in the comments below!