A Guide to Above Ground Petroleum Tank Cleaning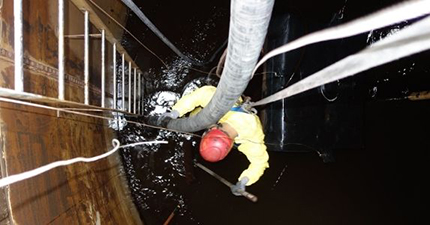 Above ground storage tanks (AST's) are large steel cylinders that are used to store petroleum products, or other liquid material. Petroleum tanks require routine maintenance to ensure the integrity of the product is maintained, and to make certain that the tank and its contents are safe and compliant with local, state, and federal regulations. Storage tanks also need cleaning if the product is changed, which will prevent contamination between the old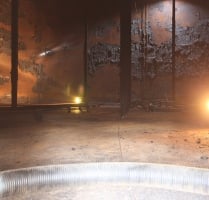 and the new product.
Cleaning of above ground petroleum tanks should only be performed by highly trained crews with the necessary experience and certifications. The following is a general guideline to follow when cleaning AST's:
Due to the inherent danger involved with entering and cleaning petroleum storage tanks, crews must be TWIC certified, have the proper insurance, and be up-to-date with all trainings and certifications. The crew should perform a daily on-site safety meeting covering all of the possible related safety issues. This meeting will be documented, and a representative from the client company should participate. The crew needs to obtain the necessary work permits from the client and go through OSHA's lock-out tag-out on the tank each day. The isolation of the piping and valves associated with the aboveground tank should have occurred, and tank ventilation should be in place prior to the crew arriving at the site. The crew should verify that all blinds and blanks are in place, and ensure that a safe and secure work area and decontamination area has been set up. A site specific Health & Safety Plan (HASP) needs to be prepared, followed, and maintained at the work site.
The tank cleaning crew should consist of a minimum of three people, and be equipped with all the proper PPE, a vacuum truck(s) for product removal, support trucks, pressure washers, confined space entry gear, rescue gear, and supplied air (SCBA) systems. The crew will set up the confined space entry equipment around the tank using the front manway as the entrance and exit for the tank. An approved and properly calibrated air monitoring meter should be used to evaluate the atmosphere in the tank, and the tank must be continuously vented throughout the cleaning process. The crew will enter the tank and work the recoverable product with squeegees to the vacuum truck hose placed in the center of the tank. Using the pressure washer, the crew will wash the interior floor and wall (usually to the first weld ring). Large above ground tanks are worked in quarters so as not to contaminate an area already cleaned. The vacuum truck will be used to remove the water rinse and sludge, and transport all wastes offsite for disposal or recycling.
It is imperative for petroleum and energy organizations to ensure that their product is being stored in a suitable environment, and that the safety of the people working onsite is never compromised.