Cannabis Waste Disposal for Growers, Manufacturers, & Retailers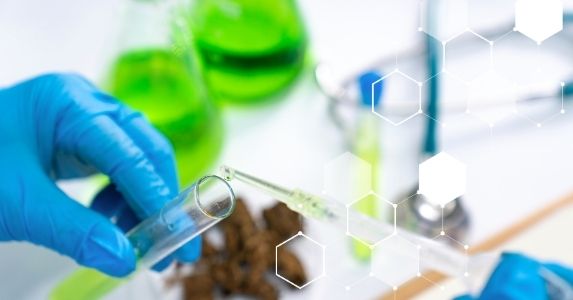 Posted by
Jasmine Sherren
March 30, 2021
Today, cannabis farming and manufacturing is a rapidly growing industry; however, faster growth also results in more waste. The legalization of cannabis in many US states calls for a well-maintained infrastructure for the safe management of waste generated in the cannabis industry. States impose strict rules regarding its cultivation and sales, including requiring businesses to report all activities related to cannabis waste disposal. Not to mention that before companies or farmers can even begin to operate, they need a cannabis waste management plan that adheres to all state regulations to acquire their license.
Hemp, CBD, and THC-Containing Wastes—What's the Difference?
Anything containing THC or that comes into contact with THC must be destroyed and combined with an aggregate material until it is "unusable and unrecognizable." At present, there is no universal definition of "unusable and unrecognizable," and requirements can vary between states. At a minimum, cannabis waste must be removed or separated from any packaging or container, and rendered unrecognizable and unusable.
Hemp describes the fiber spun from the stem of the cannabis sativa plant, and is used to manufacture a variety of commodities including textiles, paper, and rope. Aside from these useful items, hemp can be processed and extracted to afford cannabidiol, a cannabinoid commonly abbreviated as CBD.
CBD is a non-euphoric compound that when ingested does not produce (and even counteracts) a "high" as in the case of the most familiar cannabinoid, THC. CBD has become one of the preferred treatments for many common ailments including chronic pain, anxiety, depression, insomnia and more. This has led to a massive boom in the CBD market sector, with CBD-infused products now being sold in spas, cafes, pharmacies, salons, as well as other retailers in across a broad purview of industries.
Cannabis waste is considered organic waste if it is not combined or contains any hazardous or toxic material. If the waste contains THC, it must be mixed with an aggregate material until it is deemed "unusable and unrecognizable." This is to prevent the waste from discharging into soil or a water source or being ingested by animals or minors.
For this reason, cannabis waste needs to be securely stored and only accessed by authorized personnel. When treated as regular trash, marijuana waste can be subject to search and seizure—without a warrant—provoking a costly legal problem.
Some of the most common cannabis-related EPA violations are due to improper or inadequate documentation of cannabis waste and/or its removal. Typically, jurisdictions consider marijuana flowers, stalks, roots, trim, leaves, residue, and wastewater to require hazardous waste removal.
Disposal of Cannabis Waste
Cannabis waste can be disposed of in a permitted landfill, incineration, composting, or by means of in-vessel digestion. In addition to organic waste generation in the cannabis industry, federal and state regulations require durable childproof packaging for both hemp and cannabis-related products.
The rules for plastic waste disposal, recycling, and cannabis waste disposal can become conflated. Our webinar, "Cannabis Enterprises: EH&S Compliance You Need to Know" can help cannabis businesses understand the state and federal regulatory requirements, obtain permits and licenses, and build environmental, health, and safety programs. You can also learn more about our EHS services for cannabis enterprises here.