Doing A Lab Decontamination: The Process, Step-By-Step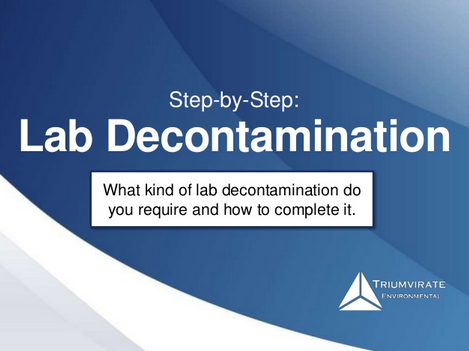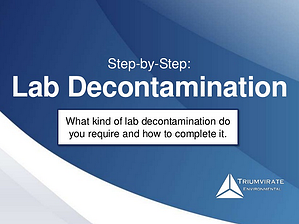 There are multiple needs and benefits for completing a lab decontamination at your facility. It saves money, reduces liability and helps ensure the safety of those using the lab. Our recent webinar with in-house expert, John Wright discussed how to determine what needs to be cleaned, what cleaner to use and more for your decontamination.
For a complete recording of the webinar, try this link, here. Here are the steps you should take to complete your lab decontamination project thoroughly.
Remove all chemicals from lab and properly dispose of or transport to the new facility.


Conduct a decommissioning assessment report. This should include details of all chemicals used and copies of existing permits.


Prepare a decommissioning plan (do sampling and analysis if needed). Include assessments of historically used chemicals in the area to ensure you have the correct type of cleaner. If you don't know the chemicals historically used, take samples and test.


Decontaminate non-permeable surfaces with industrial grade cleaner.


Treat equipment used to process and store chemicals. This includes bench tops, drawers, cabinets, floors and walls, chemical storage areas, cold rooms, neutralization tanks and more.


Decontaminate everything used to process or store biological material. These should also be washed with industrial grade cleaner.


Decontaminate everything used to store radioisotopes. A radiation survey must be performed and recorded on form RC-14, if radiation is detected. All surfaces must be cleaned until radiation is no longer detected. We recommend calling in professionals for help.


Assess and relocate or dispose of all laboratory equipment properly. Pay attention to sharps, broken glass broken containers, etc.


Don't forget the small stuff: drain vacuum pumps, remove colorimeters, and decontaminate fume hoods, paying special attention to the chemicals used there.


If ethidium bromide was used in the lab, then know where it was used. Use appropriate cleaner and tools to ensure it's been properly removed.


If your sinks or fume hoods have traps, do a mercury assessment.


Complete and sign a decontamination certificate
For more information on lab decontamination, check out our case studies here or click to read about our biological decontamination services.