EHS Elite 8: Do You Agree With What the Industry Has Picked?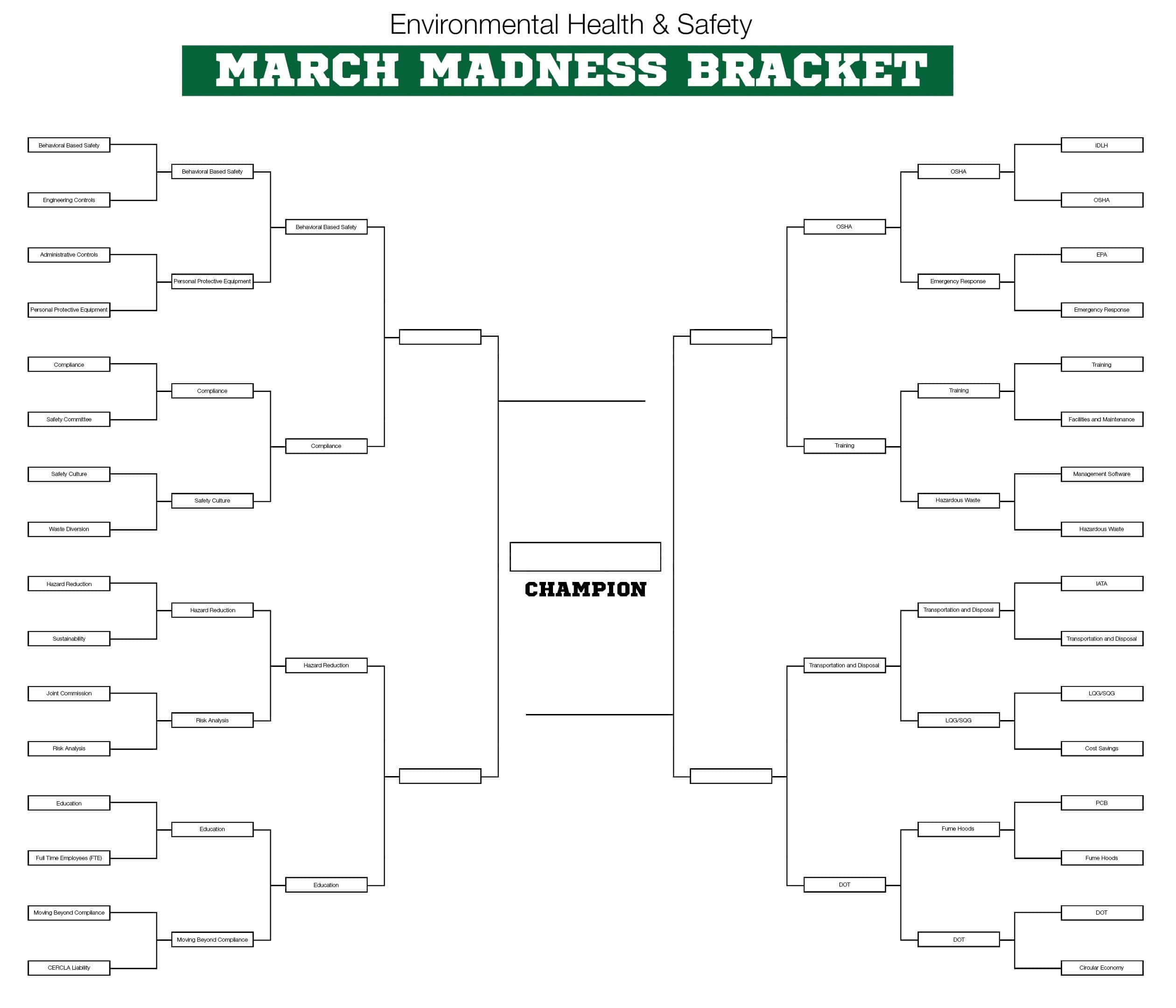 See the bracket so far and sound off on how you feel about it!
Thanks to overwhelming participation in our EH&S March Madness bracket we now have our Elite Eight EH&S terms! Compliance knocked out the crowd favorite "safety culture" in the last round while, unsurprisingly OSHA has yet to find a worthy opponent. Here are the match-ups for the next round in this competition.
Behavioral Based Safety vs. Compliance
Hazard Reduction vs. Education
OSHA vs. Training
Transportation & Disposal vs. DOT
Click the image below for a larger image of the bracket so far: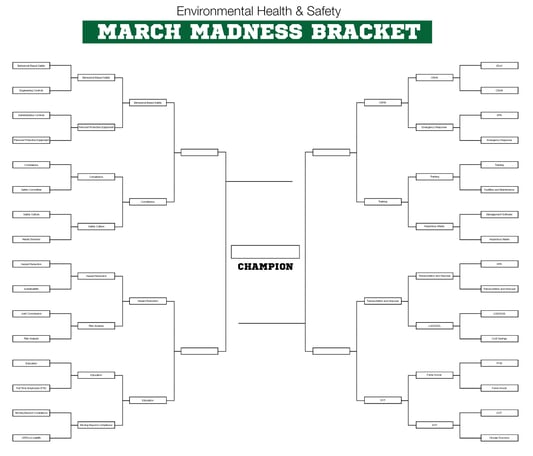 Now lets talk about the words in the top 8, what they mean, why they're important and if they're going to win. Here we go:
Behavioral Based Safety: (BBS) is "a broad term used to describe everything from basic employee behavior audits and feedback to a comprehensive safety management system designed to change a company's safety culture." (EHSToday)
Compliance: According to 2016's State of EH&S Report, compliance was the most important topic to EH&S professionals in the upcoming year. Many EH&S professionals are responsible for compliance across an array of regulatory bodies. Compliance can contribute to an organization's safety, cost savings, sustainability, operational excellence and more. While behavioral-based safety is a tough contender, my pick is for compliance in this match up.
Hazard Reduction: As simple as it sounds, hazard reduction is the process of minimizing or reducing hazards.
Education: The cornerstone to a successful environmental health and safety program.
OSHA: Occupational Safety and Health Association. Get access to some of OSHA's most important regulatory pages here.
Training There's a long list of required and recommended training EH&S professionals should be taking to stay compliant. Learn more about IATA, DOT HazMat, HAZWOPER and more here.
Transportation & Disposal Over thirteen tons of hazardous waste are disposed of every second. Needless to say, waste transportation and disposal is integral to a functioning environmental health and safety department.
DOT: The mission of the department of transportation is to "Serve the United States by ensuring a fast, safe, efficient, accessible and convenient transportation system that meets our vital national interests and enhances the quality of life of the American people, today and into the future." Learn more about the DOT here.
Participate in this round of voting using the directions below! Here's how it works:
Click the link below and make your Round 3 and Round 4 picks for most important EH&S terms before Friday, March 25
Week of March 28, Championship Voting and winner announced!
If you want notifications or updates on the words, put your email in the optional box at the top of the voting form.