Environmental News: What You Need To Know
There's no doubt about it. Sustainability is on the rise. With environmental efforts commonplace in the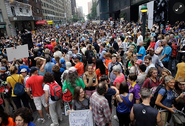 political arena, a food waste ban taking the state of Massachusetts by storm, industry all over the world turning to sustainable solutions, and the People's Climate March having happened only weeks ago, sustainability is in the news every day. Here are some recent stories that caught our eye.
DuPont and Procter & Gamble are collaborating to use cellulosic ethanol in North American Tide laundry detergent.
Tide Cold Water will be the first brand in the world to blend cellulosic ethanol in a scalable and commercial way, the companies say.
Thousands of Angelinos are taking the "Dirty Car Pledge" to not wash their cars for 60 days in response to the worst drought in California's recorded history. Los Angeles Waterkeeper's campaign "Go Dirty for the Drought" is an effort to raise awareness about the severity of the drought and empower individuals to prioritize water conservation.
The state's commercial food waste disposal ban kicked in this week and by year's end the Charlestown Maritime Center will begin producing fuel from compost for the Massachusetts Water Resources Agency's (MWRA) wastewater treatment plant at Deer Island in Winthrop.
A staggering 7 million milk containers have been saved from landfill and turned into furniture for schools and parks thanks to a North East business.
Now, the contribution Marmax Products is making to the region's environment has earned them a top award nomination.
Almost three-quarters of Americans — 71 percent — want to work for a company whose CEO is actively involved in corporate responsibility and/or environmental issues, according to Corporate Responsibility (CR) Magazine's annual corporate reputation survey.
What environmental news caught your eye this week? Tell us in the comments.