Fourth Of July Environmental and Safety Tips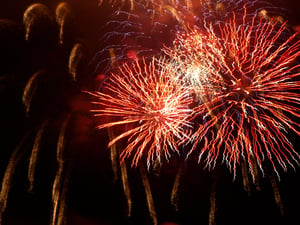 Fireworks are a staple to the USA on July 4th. What is not quite understood but demands caution is the chemical effect from shooting them off.
Most fireworks contain chemicals that are harmful to the environment. Most chemicals used in fireworks are regulated toxins and oxidizers. The main chemicals of concern are perchlorates. Perchlorate levels have been shown to be higher in local ground water after firework displays.
Perchlorates are listed by the EPA as a "chemical of concern". In addition to the environmental impact of fireworks, they also present a very real safety risk.
Here are our tips for making your fireworks display safe and environmentally friendly.
Safety Procedures
Here are OSHA's recommendations for keeping your fireworks display safe.
Make sure personnel are trained and competent.
Obtain required licenses, permits and inspections.
Maintain display site security and communications.
Wear protective gear and proper clothing.
Prohibit accidental ignition sources.
Properly install mortar boxes, racks and drums.
Keep fireworks cartons closed.
Keep fireworks dry and in good condition.
Always handle fireworks carefully.
Stay away from loaded mortars.
Reduce Contamination

Helpful ways to reduce any potential contamination of fireworks include the following:
Sweep up debris from firework
Light off fireworks in areas away from underground water ways
Buy from manufactures that list all chemicals in product
Buy perchlorate free fireworks
Enjoy the 4th of July time like any other holiday. Keep a mindful eye on ways to reduce the impact each of us has on our environment.
Keep up to date with all our EH&S tips. Register for our monthly newsletter.