Important Questions to Consider Before Reopening Your Medical Office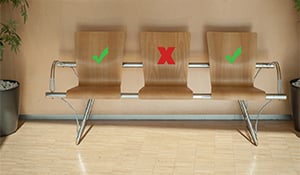 As states and counties throughout the country begin to reopen, many people are still dealing with worries and hesitations about venturing outside. This includes common public areas we once didn't think twice about going to such as public parks, restaurants, and salons. This has also kept many away from essential services such as grocery stores and doctor's offices. In fact, it has been estimated that nearly 1 in 3 Americans have delayed personal medical treatment due to the ongoing COVID-19 pandemic. I write today to encourage small healthcare practices or clinics to consider the list below of new safety practices for the office that will go a long way in reducing the risk of COVID-19 transmission. Additionally, this will also provide confidence to your patients that they can return to the office for routine or urgent medical services and won't be putting themselves at undue risk.
Important Questions to Consider Before Reopening:
Have hours been modified or extended to allow for the spacing out of patient visits?
How are patients screened prior to their appointment?

Will patients be called the previous day and asked about symptoms of COVID-19?
What happens if they have experienced symptoms?
Is a screening station set up inside the building entrance? If so, where is it set up?
Are staff and patients' temperature checked?

What is the face mask policy at your location? Are disposable face masks or gloves distributed to all patients when they enter the building?
What PPE is worn by staff? Masks and face shields? Clinical staff and administrative staff may require different PPE, depending on procedures performed and layout of facility. If N95s or other respirators are used, are staff properly trained and fit tested? Will there be a suitable supply of these N95s for the next several months?
Have you developed a policy for visitors and companions? How many should be allowed, and under what circumstances?
Should floors be taped to designate walking routes? Signage to remind visitors to socially distance?
Has your waiting area been redesigned to ensure that no one can sit within 6 feet? Have other spaces been considered to use as waiting areas?
Is the location fully stocked with hand sanitizer and dispensing stations? Are you able to re-supply your stock of hand sanitizer fluid? Are staff reminding visitors to wash or sanitize hands? Should signs be posted?
How often are exam rooms being disinfected? What about public and staff areas? Are these services complying with current CDC and state guidance?
If the office is in a shared building, how are shared spaces (lobbies, elevators, restrooms, etc.) being disinfected? Has the office reached out to the building owner to coordinate efforts?
Is there any follow-up with patients after a week of visiting the office to see if they have experienced any COVID-19 related symptoms?
For physician's offices that have been closed for an extended period, have all facility safety components been inspected and maintained appropriately prior to reopening (including fire extinguishers, emergency lighting, refrigerator temperature logs, room ventilation requirements, and more)?
The abundance of information, guidance, and new strategies being released can certainly feel overwhelming. While the above questions are important, there may be additional risks or other strategies that make much more sense for your staff and patient safety. Every physician's office or healthcare clinic varies in procedures, patients, and layout and no two offices will have the same safety practices. However, it is critical that a medical practice performs a top-down risk assessment of their entire operation and from there, develop policies in conjunction with federal, state, and local guidelines.
Triumvirate Environmental has been providing sustainable environmental, health, and safety solutions to the healthcare industry for over 30 years and has been leveraging our experience to support organizations during the COVID-19 pandemic.
To discuss your specific needs with a consultant, click the link below and we'll get back to you promptly, or call us directly at 888-834-9697.