Know the Regulation, Improve Your Chemical Inventory System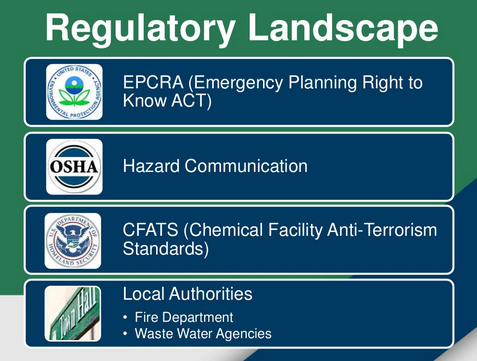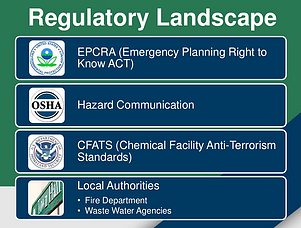 Yesterday, we hosted a webinar on managing a chemical inventory system. One of several topics addressed were the regulations surrounding chemical inventory sysem management. Here they are:

(You can view the entire slide deck at the end of this post.)
EPA
There are several regulations under EPCRA (Emergency Planning Right to Know Act) that require an accurate, up-to-date chemical inventory system. EPCRA has four major provisions: emergency planning, emergency release notification, hazardous chemical storage reporting requirements and toxic chemical release inventory. Under various requirements (detailed in the presentation) reports and chemical lists are required for submission to local authorities. These lists should include information on the chemicals including name, descriptors, hazards, average daily amount and more.
OSHA

While there aren't any specific OSHA regulations that say you have to keep chemical inventory, it would be beneficial. The Hazard Communication Standard 1910.1200 • Lab Standard 1910.1450 states that "employers must develop systems to identify chemicals and the associated hazards in the work place, which must be communicated to employees." A chemical inventory system is a great way to document that you're complying with this standard.
Department of Homeland Security

DHS CFATS (6 CFR Part 27) Is a rule that seeks to gain information about facilities possessing specific chemicals, to identify high-risk chemical facilities based on risk-based-performance standards, and to improve security of high-risk chemical facilities. For more information on your compliance with this rule, look here.
Local Authorities
Often times, local authorities such as the Fire Department have their own reporting requirements for hazardous chemicals. Before creating or updating your inventory plan, check with them for requirements and preferences.
Want more information on how we can help with your chemical inventory, check out this example on how we've helped other organizations.