What Do the Patriots Have in Common With Your Biotech Start-Up's EH&S Operations?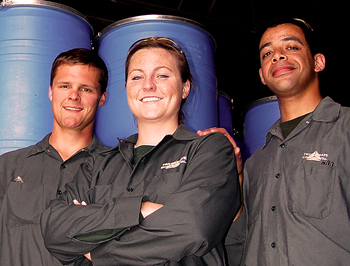 Think about this: The Patriots special teams comes onto the field after the coin toss to kick off against the Broncos. Then, for the first play of the game, the Raiders defense comes out for a few plays before the Patriots special teams fields the Broncos punt. After that, the Cardinals offense comes out to try and find a hole in the Broncos defense. You can imagine that this setup wouldn't bode well for our Franken-team, but time and time again many new biotech companies mistakenly choose this route for managing their EH&S responsibilities.
1. Strong Leadership
Drawing from too many sources for help with EH&S related issues like managing chemical inventory or filling out regulatory paperwork can lead to some serious confusion for you, your company, and outside contractors. In fact, some companies can cut down on the number of outside EH&S advisors and contractors by up to 600% by streamlining their EH&S programs under one roof. The truth is that both a football team and a biotech startup work best when leadership is concise, just like one football team having a defense, offense, and special teams for different situations, all under one head coach.
2. A Coordinated Offense
Any football team needs a well-coordinated offense, and for this analogy, we'll compare that to your chemical inventory and disposal. Having a dedicated team of chemistry professionals to ensure that your azides, ethers, and ethidium bromide, for example, are all kept in line with regulations and best practices takes a lot of weight off of your employees. In addition, integrating this aspect of your business with the rest of your EH&S landscape helps to create a customized understanding of your business' operations that can help streamline other similar processes your business needs.
3. An Organized Defense
Let's now move on to the defense of your company: the regulatory side of things. Just like defense wins championships, no biotech company can do well when their permits are strewn around in different filing cabinets at a dozen different companies. Having one go-to company that knows which permits you need and where to get them cuts down on the probability of losing an important license or being found out of compliance by a government agency. This is especially true if this go-to company also knows which chemicals you have on hand and what your waste and emissions landscape looks like, for example. It takes a true expert to have all of your "cornerbacks" lined up to defend against anything, but having a seasoned veteran at the helm is a sure-fire way to ensure that no surprises happen on your watch, even with the multi-layered permit renewal cycle that so many companies abide by.
4. Responsive Special Teams
Finally, let's take a look at special teams, or, in the case of our analogy, the miscellaneous EH&S responsibilities that come with operating any biotech company. Events like chemical spills, accidents, employee medical issues, and urgent building modifications mean that a new contractor or advisor has to learn your business in a hurry, which makes providing a customized solution that much harder. If any of these situations or countless other surprises come up, having your company's own centralized EH&S advisor to walk you through any unexpected bumps in the road means a more efficient and customized experience than outsourcing isolated projects to unknown companies. Think of it like hiring a special teams coordinator at the beginning of the season as opposed to bringing in someone from the Canadian Football League for help with an onside kick in the fourth quarter.
Bringing together your company's offense, defense, and special teams under one roof means that your permits fully cover your chemical inventory, and your building can properly accommodate whatever operations you plan on pursuing now or in the future. It also means that fewer people need to be involved in each aspect of what would otherwise be a discordant system, saving you time and money while still offering better coverage than something more scattered. To answer the pop quiz question, the common thread between the Patriots and your biotech startup is that both need strong, central leadership in order to do great things like win championships and operate safely, compliantly, and efficiently.
Want to see how Triumvirate helps biotech start-ups create winning EH&S teams? Check out a case study on our all-in-one service in the link below.