The Winner of EH&S March Madness Is...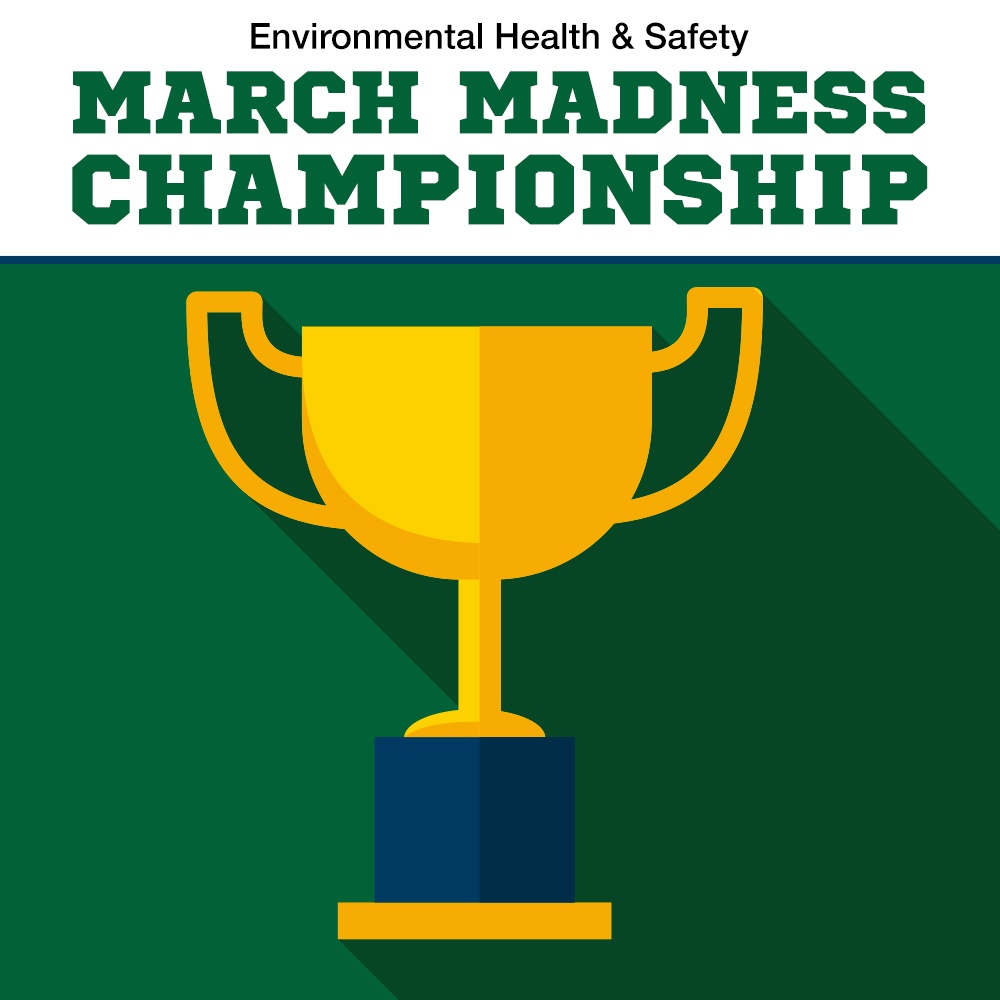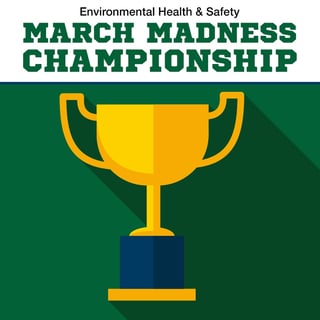 Three weeks and 32 terms later, the winner of the EH&S March Madnes championship has been decided. In a tight race with over 100 voters, compliance took the championship title over training by just 1 vote!

Keep reading to learn more about these terms, how to maximize them at your organization and what Triumvirate can do to help.

Training

Many campus EH&S Departments struggle to find a way to address EH&S regulatory training requirements and administer the training program to a very broad, diverse and transient audience. In many cases, an EPA or OSHA program gets developed and one of the components of the program is a training course or materials. After about a dozen of these programs are developed most campus EH&S offices realize the daunting task of providing a dozen training programs to university personnel - many of whom need to attend one or more of these sessions (not to mention annual refresher versions of these trainings or the time requirements imposed by many OSHA regulations).
Here are some of the necessary steps that can be taken to strengthen companies that are struggling with EH&S training programs:
Begin by strategizing and carefully planning your personnel training needs. This means investigating what the needs of your personnel are and then implementing a plan that fits those specific needs. It is important to know exactly what your personnel needs are to produce a comprehensive training program. Seeing the whole picture of training requirements and your personnel training needs allows you to develop a more effective training program and delivery model. In many cases, campuses will want to center their EH&S training programs around similar job functions.
Click here to register for one of our open-enrollment trainings.
Compliance

"The action or fact of complying with a wish or command," - Merriam Webster. Here are some ways a compliance program will help your organization save money.
Save on Reputation
A program that is out of compliance not only runs the risk of getting fined by regulators, it runs the risk of having those fines published to the media. Public media embarrassment could cost your organization in more ways than one. Having your reputation tarnished could ultimately result in losing customers, prospective employees and the time and money it takes to repair that reputation.

Employee Injury

There are many employees who have direct contact with regulated practices and thus, need to be trained. Collateral of having a compliant program is having open lines of communication and first rate training programs for all parties that touch the waste. This includes non-EH&S staff like nursing and researchers.Without this key aspect of a compliance program organizations are increasing the risk of employee injury. Employers pay almost $1 billion per week in workers' compensations costs alone. A top-notch compliance program should provide constant training for employees and aid in discovering compliance mistakes before they happen. Ultimately, an adequate training and education program will help your institution save on employee injuries and paid leave.
Greater Efficiencies
In addition to keeping employees safe, having an adequate training program and organized management plan helps streamline your program, make it more efficient and ultimately save on labor and process hiccups. The best compliance programs are those that not only teach the employee what to do, but results in buy-in from the employees. Employees will help keep your program compliant rather than hinder it. One way to improve your program's efficiencies is by developing a compliance calendar. This will help reporting and assure regular tasks are done in a timely manner.A compliant program will lead to efficiencies in waste management.

Improvements could be anywhere: from the time it takes to 'walk the rounds' to making sure chemicals and waste are in the right containers. In this way, a Triumvirate client improved their waste expenses by finding a way to consolidate multiple waste streams into fewer containers. This client was looking to improve their bottom line without changing disposal technology. Triumvirate researched and found a way to consolidate a four waste streams into one.This saved the client in several ways: disposal cost was cheaper, containers were reused, disposal technology stayed the same, and it left fewer containers in the MAA for inspectors to inspect.

This overall change was possible through the greater efficiencies and compliance focus of their program and ultimately saved them more than $15,000 year to date.Reduced money spent on this means more money and extra time invested in more profitable tasks and projects. To kick-start your program into compliance, check out our regulatory reporting calendar in the link below.

For more information on how we can help you improve compliance check out our risk mitigation case studies.