Top EHS & Facilities Aspects to Consider During the COVID-19 Pandemic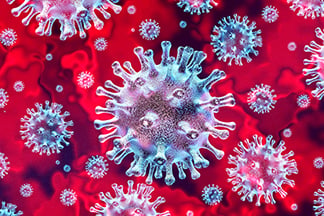 Every hour another change is announced concerning the current "new normal" for businesses and the Environmental Health and Safety (EHS) industry. In this article, I discuss three key categories to consider during this pandemic: what you should consider doing immediately on site at your facility; what you can do while you have less staff on site; and what you can handle remotely.
Immediate Onsite Actions
If it's highly likely that your organization will shut down, consider taking the following actions now:
Proactive regulated waste management.

Is there still waste at the satellite accumulation areas and central accumulation area (CAA)? Eliminating hazardous waste on site reduces potential risk. If regulated waste is left in the CAA, check the oldest dated hazardous waste. Your EPA hazardous waste generator status sets limits on the amount of time hazardous waste can accumulate at your facility before it must be shipped off site.
Check state regulations for time limits on storing regulated medical waste (RMW) and consider the consequences of leaving RMW in a lab while operations are halted. Improper waste management could result in mold, pests, and odor.
Confirm expiration dates on peroxide-forming chemicals that may expire in the next 30-90 days. If you have peroxide-forming chemicals that will expire within this timeframe, safely dispose of them before your facility shuts down.

Wastewater system adjustments.

Most wastewater systems are calibrated for a specific flow, and with a reduced flow the low-level alarms may continually be activated. Who is responsible for those alarms, and are those employees still on site? Would your staff be able to access the alarms remotely?

Preventive decontamination of growth chambers, walk-in refrigerators, or other equipment that could foster mold growth. Proactively decontaminating these areas now can help avoid further work disruptions when your facility reopens.
Actions to Take with Reduced Onsite Staff
If your organization has been deemed essential, but the EHS team, Facilities group, and overall staff onsite has been reduced, consider the following:
Necessary inspections. Do you still have personnel on site responsible for inspecting:

Eyewashes and safety showers
Fire extinguishers
Stormwater systems
Wastewater systems (pH charts, chemical levels)
Biosafety cabinets and chemical fume hoods
Reoccurring operational maintenance and upgrade projects that require some level of disruption to your labs and/or operations. Now could be an ideal time for projects that meet that criteria, such as:

Storm drain pump outs
Oil-water separator pump out and decontamination
Wastewater system preventative maintenance, such as cleaning the tanks and chemical secondary containments, and swapping out pumps that normally require a shutdown on site
Chip tank limestone change-outs
Chiller system glycol change-outs
Decontamination of labs, facilities, and workspaces
Actions to Take Remotely
If working remotely has become the new reality for your organization, here are examples of EHS aspects that don't require an onsite presence:
Online ESH training and on-demand webinars
Waste profile updates and revisions
Creating and updating OSHA-required plans and programs, such as Hazardous Communication Plans, Chemical Hygiene Plans, Emergency Action Plans, Wastewater Permits, Lockout/Tagout Programs, Bloodborne Pathogen Plans, and Clear Air Permits
Program audits and assessments conducted virtually
Whether your organization is operating in a limited capacity or has temporarily shut down, the safety of your staff is paramount during the COVID-19 pandemic. We at Triumvirate Environmental can help safeguard your facility and your team. Contact us to discuss how we can handle the EHS and Facilities projects and responsibilities discussed in this article.