12 Tips to Pass Your OSHA Inspection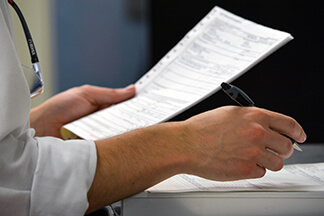 OSHA conducts thousands of inspections each year: In 2018, there were 32,020 federal inspections and 40,993 State Plan inspections. To be prepared – and in an effort to avoid expensive penalties due to fall protection, hazard communication, and other leading OSHA violations – companies are boosting compliance effectiveness by training all employees in hazard prevention and mitigation.
Rick Foote, Regional Director of EHS - New England at Triumvirate Environmental, leveraged his more than 30 years of EHS experience to compile a list of proven best practices for passing an OSHA inspection. Here's what he recommends.
Plan, Prepare, Practice
Form an inspection preparedness coordinating committee with representation from EHS, maintenance, plant operations, and other key stakeholders to ensure all bases are covered.
Conduct regular internal inspections and involve employees to get their buy-in and support.
Maintain up-to-date plans and records.
Develop – and follow – an OSHA compliance calendar.
Organize Your Resources
Know where your documents are located so you can produce them to inspectors in a timely manner.
Assemble all of the materials requested by OSHA and designate a conference room for records review so everything stays in one place.
Organize your internal human resources, including your facility program managers and folks who will escort the inspectors on site.
Communicate with Your Employees
Send an internal notification alerting your employees of an imminent inspection.
Hold an opening conference that outlines the key parties involved and emphasizes the importance of compliance and a positive working relationship with OSHA.
Take Swift Action
Address potential violations and simple deficiencies as they are found before and during the inspection.
During the closing conference, present documentation of corrective actions taken during the inspection and have answers to questions that couldn't be answered in the field.
Finally, don't be evasive – answer questions directly and succinctly! Too little or too much information can lead to speculation.
Need more information on OSHA inspection preparation? Learn more about our EHS audit services or contact us to speak to one of our consultants.