3 Methods to Make Training Memorable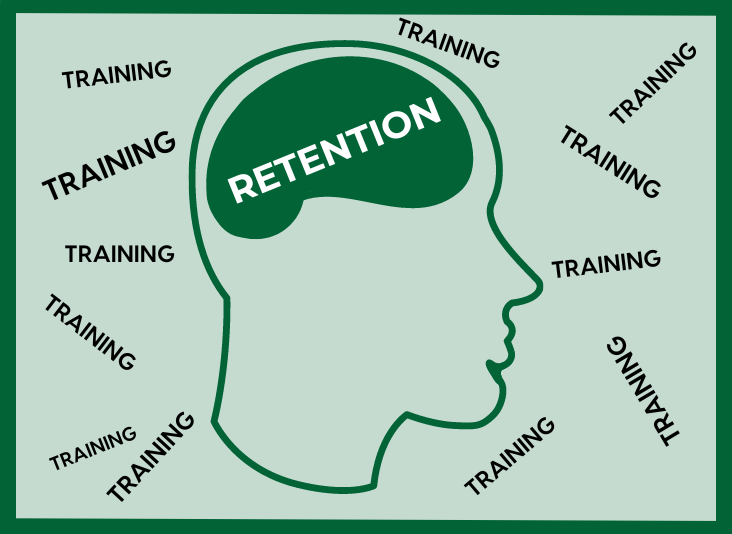 It's hard to overstress the importance of EHS training for safe and successful operations. A thoughtfully designed, memorable training program can keep your employees safe, help you save money, and assist in retention of dedicated and intelligent workers. Successful training programs protect and support employees, all while preventing noncompliance and associated penalties.
Memorable training solutions aren't easy to implement. For starters, many managers aren't sure what their employees should know, nor do they understand how to build a curriculum or what outcomes to measure. On top of this, many trainings are generic and forgettable in the long run. They may consist of a lecturer only touching on high-level talking points or reading from basic, overly-dense PowerPoint slides. A training like this doesn't address an employee's specific tasks or actual worksite conditions, and the employee will often tune out, allowing their mind to wander to other tasks and failing to retain critical information. Trainings with relevance, a focus on real-world situations and dangers, and plenty of low-stakes practice opportunities are far more likely to hold employees' interest.
Steps to Training Retention
Luckily, there are proven ways to increase the memorability of trainings:
One: Convert to an On-Demand Strategy
On-demand trainings, which employees can take online at their own pace, offer several benefits over traditional in-person or live virtual sessions:
Customizability: On-demand trainings can be as customized as needed, ensuring each employee need only absorb information relevant to their specific job. This prevents information overload while ensuring all workers have a strong grasp on the duties required of them at their specific worksites.
Flexibility of delivery: Because they are virtual and accessible anytime and anywhere, on-demand sessions can be taken at each individual employee's own pace within a reasonable deadline. This ensures that they are trained thoroughly without interruption to workplace operations.
Adults learn differently than children do, and training programs should be crafted accordingly. To design trainings with andragogy (adult learning) in mind and increase retention, build learning experiences that are:
Self-directed
Experience-based
Problem-focused
Relevant to the learner's daily life
Successful training programs incorporate adult learning theory throughout the entire session and influence the trainee's beliefs, ideas, and processes. This can be accomplished with:


Interactive elements
A variety of media (text, images, animation, video, etc.)
An assortment of methods of knowledge expression to allow participants the opportunity to make mistakes, practice, and digest information
An LMS will host on-demand trainings and store all training-related data in one centralized location. For memorable trainings, choose an LMS that has:
A course catalog that allows self-enrollment: Your training library should offer more than just required content. By adding optional courses in which employees can easily self-enroll, the LMS becomes a dynamic learning center for your organization, rather than just a static content database.


A strict expiration date: Clear, enforceable deadlines are a helpful way to ensure timely training completions. No-exception expiration dates motivate employees to find time to complete their training, keeping your organization in compliance. Your LMS should be able to send automated reminders, CC supervisors, and track completions (or a lack thereof) so you can appropriately manage your employees. Notification emails should contain one-click links to instantly access trainings—smoothing the path to completion.


Dynamic, rules-based training assignments: Automatic enrollment rules ensure the LMS only serves employees courses and tasks that are relevant to their jobs, increasing the memorability of these sessions and guaranteeing that employees receive all necessary trainings on a timely, need-to-learn basis. This also removes the burden of training management from you, freeing you to focus on your core competencies.


Human Resources Information Systems (HRIS) integration: Streamlined and automated access to training programs makes it more likely that employees will complete their assignments. LMS integration with your HRIS allows for pre-scheduled data-driven workflows, ensuring that employees get course credit for their completions and that the LMS retains an up-to-date employee roster. This integration should also allow for Single Sign On (SSO), removing the need for employees to remember yet another username and password.


Robust reporting and audit-ready data capture: Instead of dealing with cumbersome paperwork or spreadsheets, a solid LMS will automatically track and store all training data, including employee names, roles, completion dates, and more. This ensures you are always ready for the next audit. Ideally, the system will be able to provide more granular analytics—such as data about which knowledge checks are the most difficult for employees—so you can tailor training to fit your unique needs.
Looking for a partner to alleviate the burden of training and make all learning experiences memorable for your employees? Look no further than Triumvirate Environmental. Our EHSLearnTM team will evaluate your specific needs and come up with a plan to make your goals a reality. We can create custom, relevant trainings for your organization, host them on a customized instance of our LMS, and even administer the LMS so you don't have to worry about a thing. Watch our recent webinar or contact us

to learn more!