A Comprehensive Walkthrough of OSHA's New Online Injury Reporting Site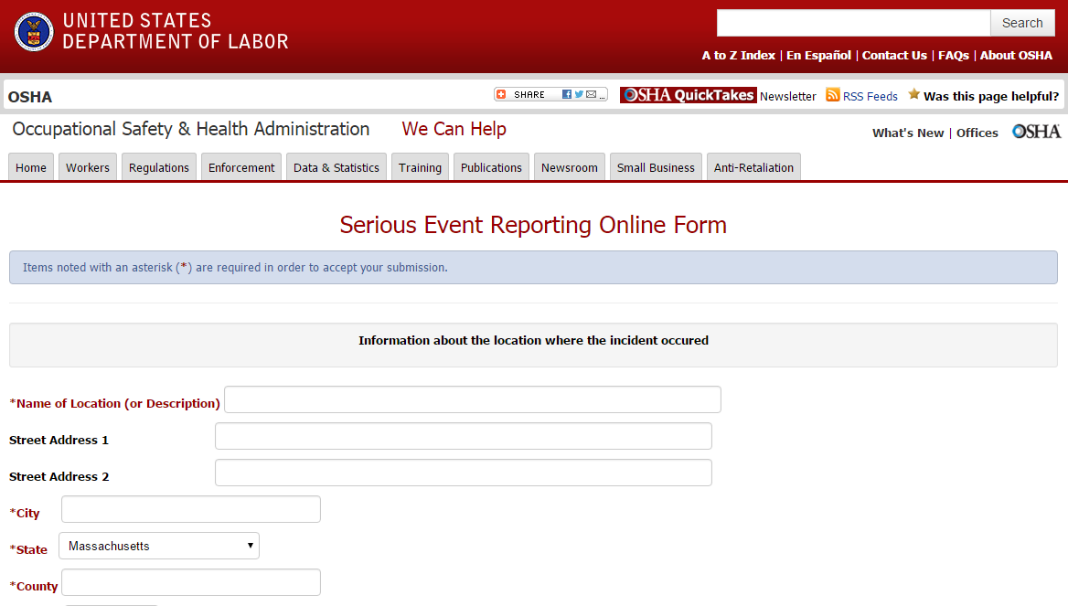 As part of OSHA's recent drive to make injury reporting easier for employers, the organization has recently rolled out a streamlined website that allows an injury report to be filed in a matter of minutes. Here's a walkthrough of the new site, as well as what you need to know about injury reporting.
Background
OSHA states that any workplace fatality has to be reported within eight hours, and any hospitalization, amputation, or loss of an eye must be reported within 24 hours of occurrence. OSHA also clarifies that a "workplace fatality" can occur up to thirty days after the initial injury, but a hospitalization or amputation must be within 24 hours of initial injury. With this in mind, let's take a look at the new reporting website.
The overarching injury-reporting page includes the information noted above, as well as a number of options for reporting a workplace injury or fatality. Options include calling OSHA's 24 hour hotline (1-800-321-6742) and a list of OSHA offices by location. Below these options is the option to file a report online, so let's dive in here.
First, you'll need to clarify which state the injury occurred in, which will affect whether you can use the website at all and the amount of information OSHA needs in order to process your report. If you can't ues the website, you'll be given the option to call OSHA's Fatalities and Casualties hotline or visit the website of your state's Department of Labor to report the injury there, an example of which is shown below.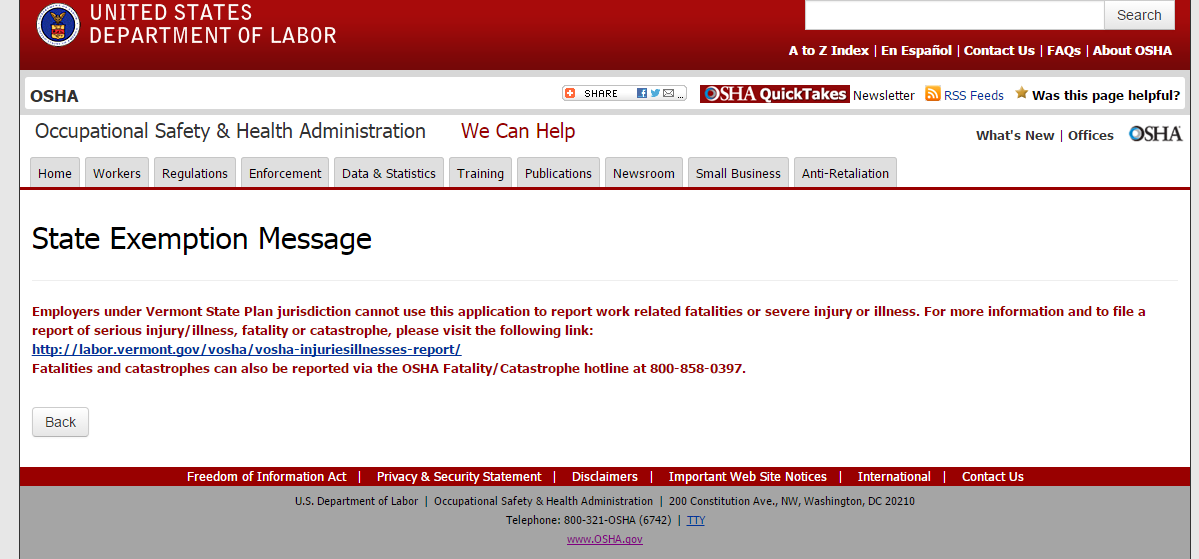 If your state has approved use of the new site, you'll be shown a single page form with five subsections, shown below.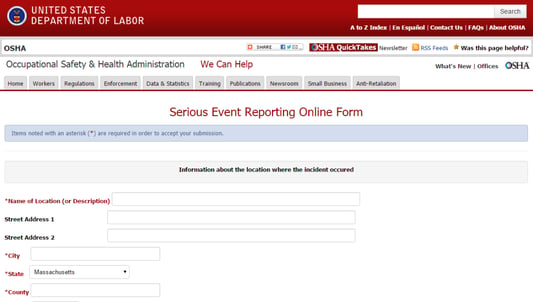 What You'll Need
Address, city, state, and zip code of where the incident occurred (There's a place for GPS coordinates too if there's no clearly defined address at your job site)
Date, time, and description of the incident, as well as places for the number of fatalities/hospitalizations
Employer information like the legal name of the business and its address
Contact information for one or two people that OSHA can contact at a later date
Information about the victim such as first and last name, what the employee was doing at the time, the specific injury or illness, the object or substance that directly harmed the employee, and whether there was a fatality, hospitalization, amputation, or loss of an eye
Leaving space at the beginning of your notebook for the above information will leave you better prepared to take all that information down without forgetting something should the unthinkable happen. A quick spreadsheet would also be a great help, almost like a paper version of OSHA's new reporting site to fill out at the scene of an injury or fatality.

Need help keeping up with regulatory changes and remaining in compliance? Check out our consulting services in the link below.