Preparing For a Covid-19 Sick Employee While Keeping Productive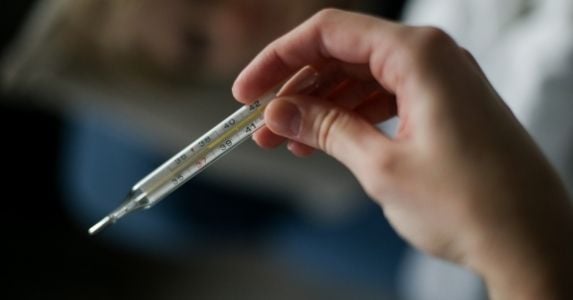 Before you bring employees back to the workplace, you will need a solidified plan on how to re-open safely and how to respond if an employee (or contractor) develops Covid-19. Before you start drafting these Coronavirus prevention plans, it's best to consult first with state and local officials and industry experts, as well as review CDC recommendations. Each organization, facility, and team will have unique issues to address and manage. The CDC developed interim guidance for businesses for responding to Coronavirus disease events in May 2020. Below should help guide your organization in creating safe and productive workplaces even when a worker tests positive for Coronavirus.
Environmental Controls
Routine cleaning and disinfection of high touch surfaces should not be new news at this point and should be every organization's #1 priority. Disinfection of all common surfaces must be routinely performed at intervals appropriate for the workplace using a CDC-approved disinfectant. All cleaning staff require appropriate Personal Protective Equipment (PPE). Facilities and workspaces are now being looked at carefully to improve fresh air ventilation. Building heat ventilation and air conditioning (HVAC) systems (if present) can be adjusted to increase the amount of fresh air and filter conditioned air. Common methods to increase ventilation also include opening windows or doors and operating portable air filters.
Employee Health Monitoring
Prior to employees entering the workplace, organizations need to encourage their employees to assess their own health each day. It should be clear to all that if Covid-19 symptoms are observed, do not come to work. Questionnaires asking about current health, travel history, and exposure to sick Covid-19 sick individuals are common. Temperature screening and PPE are also tools organizations are using. Employee testing has also been used to assess health and identify asymptomatic sick employees. If there are signs of symptoms, recent travel to restricted or high-risk areas, or positive tests, again, it should be clear to all, do not come to work. The CDC updated precautions for COVID-19 infection isolation before returning to work in July 2020.
Social Distancing, Mask Use, Hand Washing
Social distancing, mask use, and frequent hand washing have become a normal part of universal pandemic precautions and should also be applied in the workplace. Organizations should assess all locations within the workplace and identify specific operations that may present a higher risk of exposure. Preventive procedures, which may include barriers (e.g. plexiglass shields) or additional PPE, should be utilized (and provided) to minimize risk. All occupied workstations, cubicles, work benches, etc., should be at least 6 feet apart unless barriers are present. Common areas such as elevators, cafeterias, and conference rooms should have limited capacity that allows for adequate distancing. Hand washing and hand sanitizer should be provided and encouraged for all occupants. Additional signage and/or barriers may be utilized as frequent reminders to personnel to abide by these protocols.
Sickness Action Plan
Responding to a confirmed Covid-19 case within the workplace requires preparation and planning. It is critical that all necessary personnel are involved in this planning process to ensure everyone is on the same page and properly informed on protocols. Senior leadership, human resources, facilities, operations, security, and sometimes even outside cleaning contractors should all have roles in the response. Knowing how to inform and instruct the sick employee, who to contact, and how to manage the areas they used (contact tracing) are all key components. Once the sick person is identified, he or she needs to be directed to leave but will also need to provide information about where they were in the facility over the past 48 to 72 hours. The areas where the individual worked will require proper disinfection, as well as closed and secured access from others. Sometimes these areas are critical to operations or require constant attention, making it urgent that the disinfection happens quickly, even when there is potential for exposure. In areas that are not deemed critical can be left and cleaned in accordance with proper CDC guidelines.
Partnering with a knowledgeable emergency response company on the decontamination process will help calm the nerves and/or stress of many within your organization and will allow for workplace operations to continue on. Below are questions you might want to consider when choosing an emergency-response company:
What is their response time?
What is their cleaning process?
Are they experienced in disinfecting areas like ours?
How will various items in the area be managed (food, research, mid-production materials, clothes, sensitive electronics, etc.)?
Helping Keep Your Workplace Productive
During a time of crisis and uncertainty, Triumvirate Environmental has helped many organizations across Life Sciences, Healthcare, Higher Education, and Industrial markets with a variety of Covid-19 related support services such as:
Covid-19 Risk Assessments & Risk Management

Covid-19 Testing Program Management

Validation of Facility Operational Planning

Pandemic Preparedness & Recovery Plan Development

Decontamination

HVAC Evaluation

Temperature Screening Assistance

And more
To learn more about all of the Covid-19 support services that Triumvirate offers, please visit our Coronavirus (Covid-19) Decontamination & EHS Support Services page by clicking here.
To speak with a member of our team regarding emergency response services or any Covid-19 support, please dial (888)-834-9697 or click below.