Triumvirate Environmental Donates $2.5 million as Founding Sponsor of LabCentral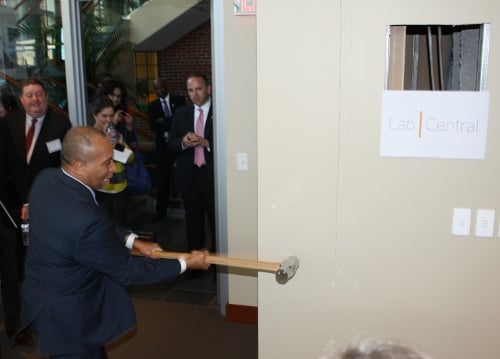 Triumvirate's sponsorship sparks innovative new biotech hub, and supports 50 to 60 new biotech ventures in Cambridge.
Massachusetts, specifically Cambridge, is a hub for innovation in life sciences and biotechnology, and Triumvirate is doing everything possible to support that innovation and discovery – which is why we've signed on as the Founding Sponsor of LabCentral.
LabCentral is a state-of-the-art 27,000 square foot facility that offers shared lab space and services for entrepreneurs and startup biotech ventures right in Kendall Square. This shared lab and office space significantly reduces startup costs for entrepreneurs, while Triumvirate ensures that all ventures maintain compliance and safety, allowing them to focus on their mission.
"We are honored to become an integral part of the LabCentral team as its founding sponsor and environmental, health, and safety provider," said Triumvirate's CEO John McQuillan.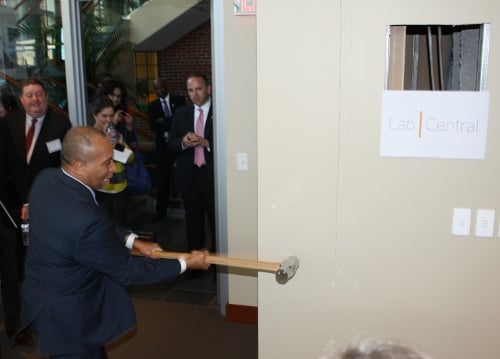 Governor Deval Patrick partaking in the ground breaking.
Triumvirate's sponsorship ensures that all of LabCentral's tenants receive the proper EH&S coverage – which, in addition to buying or renting lab space, is one of the largest barriers to entry for startup life science companies. With Triumvirate and LabCentral's partnership, new ventures do not need to worry about these barriers, granting them freedom to pursue the next big discovery in life sciences.
As part of our involvement, Triumvirate will provide comprehensive hazardous, medical, and radioactive waste management, emergency response services, industrial hygiene, lab decontamination, and wastewater services. Triumvirate will also provide all regulatory compliance services, EH&S training for all of LabCentral's tenants, and our comprehensive Project Jumpstart program that prepares all startup documentation, licensing, and permitting. Each new venture will also receive licenses to our ADVISE software, an innovative waste management and compliance reporting tool for iPhones, iPads, or laptops.
We're very excited to be part of such an incredible initiative in Massachusetts' life science industry, and are looking forward to seeing remarkable discoveries occurring within the walls of LabCental.
Slated to open in the Fall of 2013, LabCentral will create more than 30 new construction jobs and 500 new life science jobs over the next decade. The site itself is no stranger to innovation, as it was the location of the first two-way, long distance telephone call between Alexander Graham Bell and Thomas G. Watson. We suspect the site will remain plentiful with innovation and new discoveries moving forward.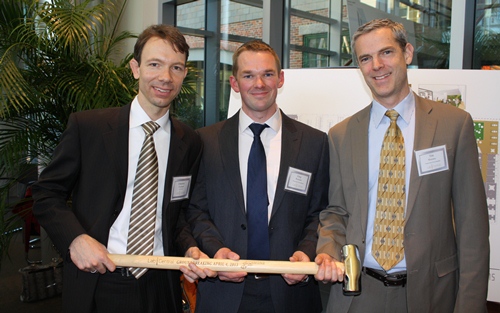 Left to Right - Johannes Fruehauf, Founder and Executive Director of LabCentral; Greg Rosinski, Life Sciences Account Manager at Triumvirate; Tim Mooney VP of Operations at Triumvirate.
Want the latest in EH&S news? Subscribe to our monthly newsletter!