Tips for Managing a Laboratory Relocation Project
Follow these tips to ensure that your next lab relocation is successful.
The rapidly evolving life science, biotech, and pharmaceutical markets require organizations to constantly size their facilities appropriately. Organizations must be cautious not to lease a space too large that it becomes too costly to operate in; however, they must also make sure not to lease a space too small and risk stunting growth. In order to meet the desired facility requirements, without adding a burdensome line item, life science companies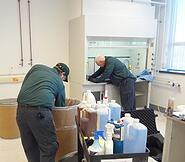 often enter into strategic leases aligned with their objectives and growth goals. Although these strategic leases help an organization further pursue their mission, it also means that laboratory relocation projects are a must.
Lab relocation can be a catalyst for company growth and innovation; however, without proper management, a lab move can truly be disastrous for your organization. These few tips will make your next lab move safe, compliant, and successful.
While searching for your next lab space, consider employee health and safety, as well as environmental liability throughout the facility search and lease negotiation process.
Build a team you can rely on, and ensure excellent communication throughout the team. This team should be composed of internal and external stakeholders.
Hold relocation project meetings at all stages throughout the lab move process. Routine meetings will help prepare the team for each step of the move, while also aiming to prevent surprises and change orders.
Closely manage the project and the team members involved in the project. Utilize project management tools to organize, track, and report on the various steps of the lab move. You won't be able to predict every aspect of the move, but with proper planning and close management, you can mitigate a number of risks.
These tips will help you get your lab relocation project off to a great start; however, to truly ensure a successful lab move, discover the five things you should do before relocating a laboratory.