Sustainability and Cost-Cutting Efforts for Single-Use Biopharma Plastics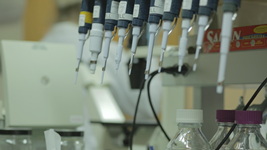 Posted by
Marc Songini
July 7, 2022
As a biopharmaceutical operations manager, have you recently reviewed your corporate single-use plastics use and disposal policy? Such single-use products, including bioreactors and pipettes, reduce risk and cleaning costs, and are becoming ever more crucial for biopharmaceutical manufacturers. Fortunately, there are opportunities today for cutting costs— while improving your disposal processes.
Changes are afoot for this market, given that the proliferation of single-use plastics is rendering the oceans and the planet toxic. There is strong public pushback against the material, and major countries, including Canada and India, recently banned many single-use plastics. In June, the federal Department of the Interior announced a single-use plastics ban in public parks. Some notable American cities, such as Boston and Chicago, already have some restrictions, as do a handful of states, including California.
In the private sector, some high-profile companies such as McDonald's have been implementing similar measures. On the other hand, biotech and pharmaceutical companies are feeling pressure to use more single-use technologies in certain operations. In fact, the single-use bioreactor market was worth $2.5 billion in 2021—and that number is expected to reach $6.2 billion by 2027, according to analyst firm Research And Markets.
Single-Use Plastics Problems
This isn't to minimize the growing resistance to single-use plastics overall in North America. Canada said it will ban the creation and importation of single-use plastics by year's end. These items include checkout bags, cutlery and more—with a few exceptions for medical products—amounting to some 1.3 million tons of plastic waste over 10 years.
For speedy and cost-effective biopharmaceutical manufacturing, research, and delivery, outright bans aren't even justifiable or possible. For example, companies must respond to the demand for personalized, smaller-dose therapy delivery, even as they phase out bulky and highly expensive stainless-steel products.
Nevertheless, contaminated plastic wastes can build up in your facilities and become a major problem. At the same time, given the nature of the industry, eliminating these plastic products can require special cleaning, validation, and containment rules. Compliant and efficient disposal and recycling will become increasingly important, particularly as there may even be stricter rules in the future.
How We Can Help Your Operations
Today, these elimination processes are time and money consuming. A recent article in biotech industry publication GEN Edge notes that few recycling companies even accept single-use plastics today. Generally, this means such plastics are decontaminated (at great cost) and dumped in a landfill or incinerated—a solution that is not as environmentally friendly as it could be.
Also, as we've noted, this is a lost opportunity to save time and money. There are currently potential partners that specialize in plastic waste diversion and in finding innovative ways for reuse. There is legislative muscle behind this: California this year implemented a law raising the minimum amount of post-consumer recycled content in plastic containers. Many companies are also pursuing zero-waste landfill policies internally, as we've also noted previously.
Going this route, you can more easily hit (or exceed) compliance benchmarks for existing regulations and corporate goals. At Triumvirate Environmental, as part of our commitment to sustainability, we offer our own solution for certain single-use plastics, and divert them from landfills.
We then convert these single-use plastics into durable and sustainable plastic lumber products. Our plastic lumber is ideal for landscaping, pallets, synthetic turf installation, and more. This way, you reduce your costs and improve your sustainability metrics.
Specifically, we handle products containing Low Density Polyethylene (LDPE), High Density Polyethylene (HDPE), and Polypropylene (PP), including:
5-gallon buckets
Stretch wrap
55-gallon drums
Pipette tip trays
Clear and printed film
You can easily dispose of these plastic products more efficiently and greenly with us. This is just one way to help you advance your sustainability efforts—and even improve your bottom line and competitiveness.
Want to learn more? Call us today at (617) 715-9055 to speak to an expert. Or click the button below for more details on our Waste Recycling & Sustainability capabilities.