Chemical Inventory Challenges Across 3 Different Industries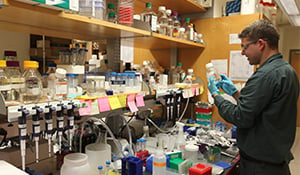 In recent years, our regulatory bodies have become more and more interested in monitoring chemical inventories. As we feel this push and start to react to new enforcement, we need to examine how managing a chemical inventory program works and how it can vary depending on the industry. Below outlines how three very common yet different environmentally regulated sectors all face challenges in implementing and managing chemical inventory systems. If you fall within one of the three industries below, you'll be happy to know that despite these challenges there are solutions that will make managing a chemical inventory program work for your facility or organization.
1. Life Sciences
One major challenge with life science research is the vast amount of chemicals that a chemistry lab uses. The last thing you want to have happen when you are trying to create the next miracle molecule is not being able to find a specific chemical you need. Having a reliable database of available chemicals that can be easily referenced for chemical lookup is essential for success. With this database, less time and money will then be spent on ordering unnecessary chemicals that you may already have in inventory. In most cases, life science companies are centrally organized and are able to have lab managers or an EHS team in place to oversee the inventory program. Companies with such a structure can then centralize the responsibilities of receiving and distributing chemicals and control the associated data management.
2. Higher Education
Colleges and universities are less centralized than life science labs, making this a primary challenge to managing chemical inventory on the macro level. You may be able to control the information of chemicals in one stockroom, but it is much harder to grasp what is contained in several teaching and research labs across campus(es). Furthermore, your PI's (Principal Investigators) may try to use students to manage and report their inventories, which often can be less than perfect. High turnover among these groups can also present challenges with data integrity over time. With a good system and the right amount of training and oversight, though, you can build and maintain a useful chemical inventory program that will work for your college or university.
3. Healthcare
Even more decentralized than colleges and universities and heavily regulated are hospitals. Hospitals commonly face serious and unique challenges when it comes to proper chemical inventory management. Too often different departments use different mechanisms to order, receive, stock, distribute, and track chemicals. This mismanagement typically takes a lot of digging to get to the root of each process and find a system that will accommodate all departments. A proper chemical inventory solution in a hospital setting comes out of collaboration and cooperation across departments. It also takes buy-in from higher ranks, as the system may come with some cost and will require someone to hold each department accountable for the overall program.
------------
Next Steps
Now may be a good time to reflect on how your facility or organization is tracking its chemical inventory. Are you aware of the current inventory program being used? Is it giving you the information you need, when you need it? Do you need help building or maintaining your chemical inventory?
Triumvirate Environmental can design, implement, and support all aspects of your chemical inventory management. Contact our team today by dialing 888-834-9697 or sign up below for a free chemical inventory consultation.