Corporate Sustainability: Triumvirate Ranks in the Top 29% of All Companies Rated by EcoVadis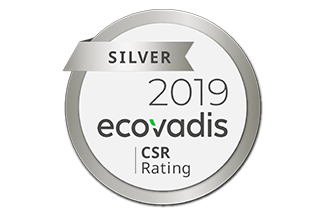 Triumvirate Environmental has achieved Silver Medal status for our Corporate Social Responsibility (CSR) score by ranking in the top 29% out of 50,000 companies evaluated by EcoVadis, a trusted provider of business sustainability ratings. We scored higher than approximately 35,500 other organizations assessed by EcoVadis, which rates companies on non-financial factors such as Environmental, Labor and Human Rights, Ethics, and Sustainable Procurement policies, actions, and impacts.
Sustainability Is Part of Our Culture
As an environmental services provider, sustainability is at the forefront of our operations. Last year, we developed our second annual Sustainability Report as a platform to identify ongoing initiatives to all our stakeholders. This report not only highlighted the successes we have had in multiple areas, but also gave us the roadmap for continued CSR growth. Through these efforts, we are increasing our team's awareness to improve current initiatives and be proactive about future opportunities. A core part of Triumvirate's approach to waste management demonstrates our commitment to CSR by continually improving our clients' management of waste reduction while maximizing their reuse procedures. We work proactively with our clients to use alternative disposal technologies that are less harmful to the environment, with recycling being the preferred approach.
We instill a company culture focused on safety and bringing the WOW! to all employees and customers daily. Our approach enables us to compete and partner with some of the largest and most well-respected companies in the world in terms of our CSR score. Many other companies assessed by EcoVadis are included in the top of the S&P 500.
Why the CSR Rating Matters
What is the significance of this EcoVadis CSR score? By being included in the top 29% of the companies rated worldwide, we are demonstrating to clients that we are the best choice to add into their supply chain—adding the most value through the best management, policies, and actions.
In 2018, we earned a Bronze Medal and top 47% score. The drastic increase in our CSR rating in just one year reflects Triumvirate's growth as an organization; we strive to build upon our success to maintain annual progress. As we implement more policies and increase our internal CSR capabilities, we are not only improving our own corporate sustainability efforts but also those of our clients. Being an integral part of our clients' supply chain, we add substantial value for their stakeholders by becoming a better, more sustainable service provider and partner.
This CSR score also demonstrates to our employees that all their hard work to be safe and compliant pays off and makes a positive impact! Every policy and action we take to be safer, more environmentally conscious, and more ethical significantly affects how our organization is viewed by the rest of the world. This score is also important to measure the progress of our organization as we have grown significantly to be an international environmental services firm.
Please keep an eye out for future posts discussing CSR, corporate sustainability, and environmental, social, and corporate governance topics. To discuss CSR in more detail or learn how we can help you meet your sustainability goals, contact our experts.